Cannondale Quick CX vs. Cannondale Bad Boy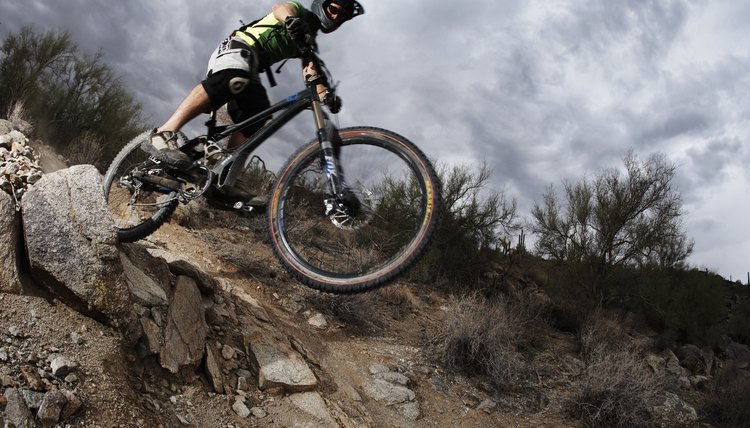 The Cannondale company describes itself as a manufacturer of high-performance, high-end bicycles. Made of aluminum and carbon fiber, Cannondale bikes are lightweight and sturdy. The Quick CX and Bad Boy are two of the company's recreation bikes. They have many features in common, but the Bad Boy, designed specifically for men, is more utilitarian in design.
Style
Cannondale designed the Quick CX hybrid bike for recreation. Like a mountain bike, the Quick CX is strong and seats the rider in a heads-up position. Impact protection reduces jarring and improves steering control through the RST Neon Custom fork used in its design. Like an urban bike, the Quick CX is versatile and fast. The Bad Boy is a no-frills bike designed for urban settings, with an aluminum frame for fast acceleration and disc brakes for smooth, sudden stops. The Quick CX and Bad Boy have 24-speeds and platform pedals.
Gender
Sized for men and women, the hybrid Quick CX is available in a larger range of sizes than the urban Bad Boy bike. Bad Boy sizes are small, medium, large and extra-large. Quick CX sizes are 48, 52, 56 and 60 centimeters and "mixte" 48, 53 and 55 centimeters. Mixte is a type of step-through frame. The Quick CX also offers a modified frame designed for women, with a lower stand-over height at the top tubing.
Specifications
The Quick CX and Bad Boy are made of 6061 aluminum frames for speed and strength. Both are fitted with rack and fender eyelets and are designed with the S.A.V.E. micro-suspension design to reduce road shock and jarring. The Bad Boy comes in a matte black finish, compared with the colorful graphic decorations of the Quick CX. Interchangeable Bad Boy wheels allow the bike to perform as a racing bike and training bike.
Cost
The Quick CX series includes the CX1, CX2, CX3 and CX4 models. The CX1 is the most expensive bike in the series, about $1,400, as of 2011. The CX4 women's version is the least expensive in the series, priced at around $630. Bad Boy-series bikes cost slightly more than the Quick CX-series, with the Bad Boy 1 running about $1,500, as of 2011, and the Bad Boy 9 about $730.00.
Resources
Writer Bio
For Judy Kilpatrick, gardening is the best mental health therapy of all. Combining her interests in both of these fields, Kilpatrick is a professional flower grower and a practicing, licensed mental health therapist. A graduate of East Carolina University, Kilpatrick writes for national and regional publications.