How to Get Pumped to Play Football Games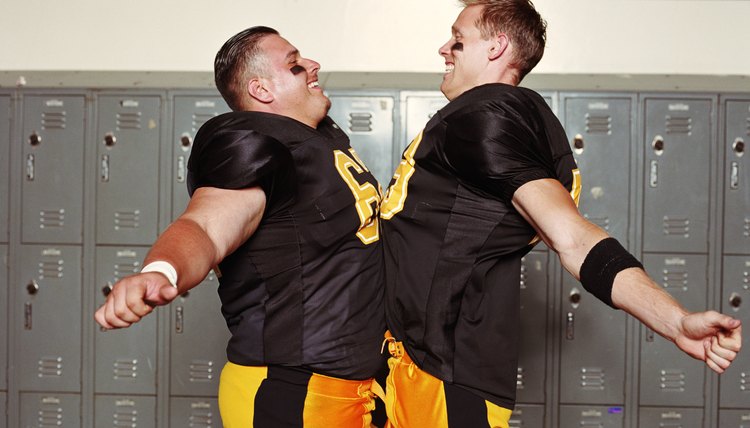 Football is a game that requires players to get in the best physical condition possible, to learn the skills of the game and to prepare mentally by knowing your own team's game plan and what your opponent is going to do. Football also requires a supreme emotional commitment. Players prepare all week to play the game; then they must out and perform under pressure. Getting pumped up will allow you to get in a peak emotional condition when the game kicks off.
Listen to heart-pumping, fast-paced music to get psyched up to play, such as "Thunderstruck" by AC/DC. The song is loud and powerful, and it builds to a dominating crescendo of sound that makes some football players want to pulverize their opponents. That's just one example. Other songs that players use to get pumped up include "Dead or Alive" by Bon Jovi, "One Love" by Bob Marley, "Freak On A Leash" by Korn, "Lose Yourself" by Eminem and "Right Above It" by Lil Wayne and Drake.
Watch film of your greatest moments on the field. One of the best ways to get ready is to build optimism about your game. When you can switch on the videotape and see yourself succeeding at a sport that you have worked hard at and prepared well to play, you can get pumped up and get yourself at an emotional peak.
Watch an inspirational football movie the night before a big game, such as "Remember The Titans," "We Are Marshall," "The Longest Yard" or "Friday Night Lights." These movies demonstrate the importance of football to the players on the team and the individuals who support them.
Attend a pep rally the night before the game at your high school or college. This may or may not get you pumped and ready to play, but some players get emotional when they see a whole town standing in support. It may put pressure on others, and some players may not care at all. It depends on your personality and state of mind.
Listen to your coach before the game. Pre-game speeches can be an important part of peaking emotionally before the game. Some speeches have become part of football lore. Notre Dame's Knute Rockne is perhaps the most famous pregame orator, while coaches like Vince Lombardi, Bo Schembechler and Buddy Ryan have also been known to rally players to a fever pitch.
Psych yourself and your teammates up with a pregame chant. During the 2000 season, the Baltimore Ravens built a championship team and led by one of the most intimidating defenses in NFL history. Middle linebacker Ray Lewis became the leader of this unit and his pregame "Game Time" chant became quite famous. One of the key lines was "Are My Dogs in the House?" Lewis's teammates would respond by barking. New Orleans Saint quarterback Drew Brees had a chant of his own that helped pump up the Saints during the 2009 season. The Saints would go on to win the only Super Bowl in team history.
References
Writer Bio
Steve Silverman is an award-winning writer, covering sports since 1980. Silverman authored The Minnesota Vikings: The Good, The Bad and The Ugly and Who's Better, Who's Best in Football -- The Top 60 Players of All-Time, among others, and placed in the Pro Football Writers of America awards three times. Silverman holds a Master of Science in journalism from the Medill School of Journalism.