What Do I Need to Do to Become a Pro Soccer Player?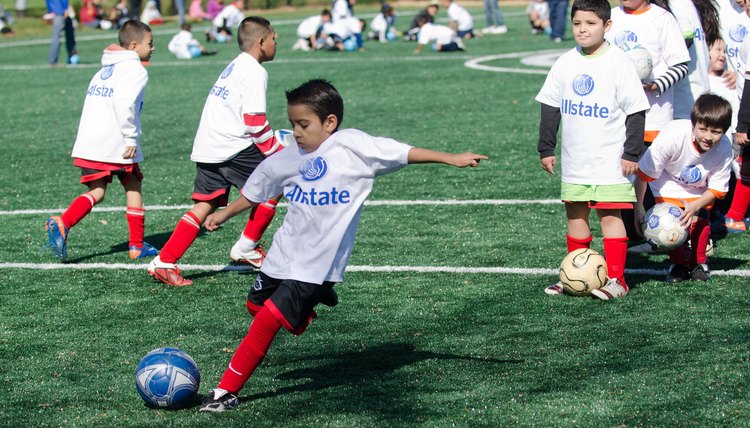 Only about 113,000 people worldwide earn their living playing soccer, and of those, only about 7,000 play in CONCACAF, the region including North and Central America and the Caribbean. Meanwhile, more than a quarter-billion people play soccer worldwide, including more than 44 million in CONCACAF. With those kinds of odds, you need more than just talent to break into the professional soccer ranks. But why not pursue the dream, because it's what you love.
Commit to Soccer as a Career
Even if you live for the game of soccer, you need a deep level of commitment to be a pro. For example, Pat Healey, a standout defender on the Baltimore Blast professional indoor team, knew at an early age what direction he wanted to take. "Some people want to grow up to be a doctor or lawyer," he said. "I wanted to be pro soccer player. I wanted to make it my career. I don't see myself as a desk-job type of guy." This decision determines the direction you will take with your time, energy and focus.
Seek Top-Flight Competition
You need to seek maximum challenge to get better. One aspect of such competition involves playing against older players. "At a young age, when I was 5 or 6, I played against 8 or 9 year olds," Healey recalls. You'll also want to pursue the most competitive levels available. Club or travel team soccer is more demanding than recreational or school teams. And academy teams, often affiliated with U.S. Major League Soccer clubs, are more competitive still. For the highest level of competition, sign up for soccer camps in Europe or Latin America or attend tryouts for foreign academies. "That's the way to get better, by trying to beat kids left and right," Healey notes. "To play against the best possible competition that you can is the most beneficial."
Put in Practice Time
You'll need hours and hours of skills work to get better, Healey notes. "It's a team sport -- you have to do some things as a team in practice. And there's individual things you can do to get better by yourself," he says. Healey recalls time spent on his own one summer -- when he was supposed to be enjoying a summer vacation at the beach. Instead, he found himself every morning in a parking lot, working on his shooting, increasing his leg strength, driving long balls and working on individual moves.
Attend Tryouts
You've challenged yourself, you've got your skills to a burnished edge -- now you have to pump up your courage and attend pro tryouts. Healey notes that Blast players have arrived on the team after standing out at open auditions. Another option is play exceptionally well and hope word spreads on soccer networks. One Blast player arrived, for example, as a friend of a current player, who mentioned the friend's abilities. "There's very, very different ways to make it to this level," Healey notes. "It doesn't stop" if one avenue doesn't work, he adds. So he advises to keep pushing to "the highest you can. There might be some speed bumps along the road, but if you persevere it can work out."
References
Writer Bio
An award-winning writer and editor, Rogue Parrish has worked at the Washington Post, the Baltimore Sun and at newspapers from England to Alaska. This world adventurer and travel book author, who graduates summa cum laude in journalism from the University of Maryland, specializes in travel and food -- as well as sports and fitness. She's also a property manager and writes on DIY projects.