What to Wear & Bring for Cheerleading Practice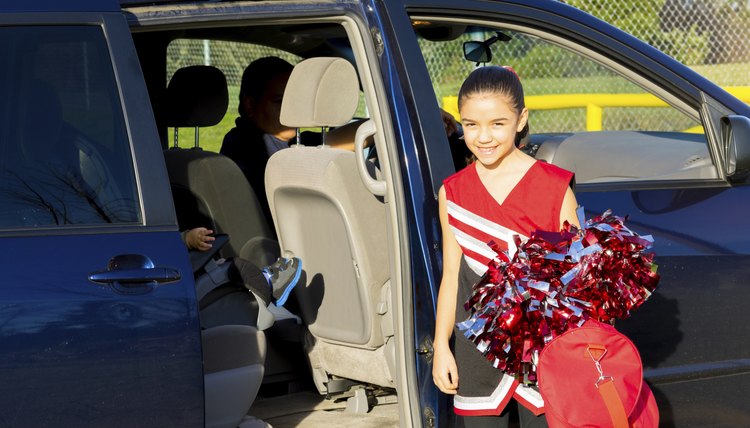 Cheerleading is a hardcore sport, which means plenty of practice to make it perfect. Whether your squad cheers for games only or you participate in cheer competitions, weekly practices help you hone your skills and unity as a squad. When you have an upcoming cheer practice, it's respectful to your squad mates and your coach to come ready to learn new stunts and cheers to make the most out of your practice. By dressing properly and bringing the right gear, nothing stands in your way of becoming a better cheerleader.
Uniform and Practice Clothes
In most cases, you will not have to wear your uniform for daily practice. Practicing in your uniform causes wear and tear, and uniforms are often pricey investments for schools and organizations. Still, you may be asked to bring your uniform for dress rehearsals. During regular practices, you'll likely just be asked to wear clothes that are comfortable and breathable. Microfiber pants and tops are highly flexible and wick sweat away from your body so you stay cool while practicing difficult moves and stunts.
Proper Shoes
Street shoes may not be appropriate for cheer practice. Depending on the type of cheer technique your squad uses most, you may be asked to wear half jazz shoes or go barefoot for certain dance or gymnastics-based routines. Otherwise, regular running shoes are fine. When you first join the squad, you'll likely receive information on the type of running shoes that are acceptable. Shoes with nonslip soles are typically best unless otherwise directed by your coach.
Water Bottle and Snack
If you're a member of a school squad, cheer practice often takes place after classes at the end of the day. This means you may find yourself hungry when headed to practice. Attempting to exercise and cheer on an empty stomach could cause you to feel lightheaded or nauseous. Pack a light, nutritious snack to eat before practice, such as a granola bar, fruit and cheese or peanut butter and crackers. Also, ensure that you have a water bottle on hand and drink at least 7 to 10 oz. of water for every 10 to 20 minutes of vigorous cheering.
Pom Poms and Ponytails
Anytime your coach gives you props for cheering, store them in your gym locker or bring them to practice. Pom poms are especially important, since you'll need to get used to using them during practice.
If you have long hair, bring a ponytail holder to practice. You'll need to sweep the hair out of your face so you can see the routines and move around freely, without having to stop and adjust your hair periodically through practice.
Writer Bio
Kay Ireland specializes in health, fitness and lifestyle topics. She is a support worker in the neonatal intensive care and antepartum units of her local hospital and recently became a certified group fitness instructor.