The Average Salary of an LPGA Tour Player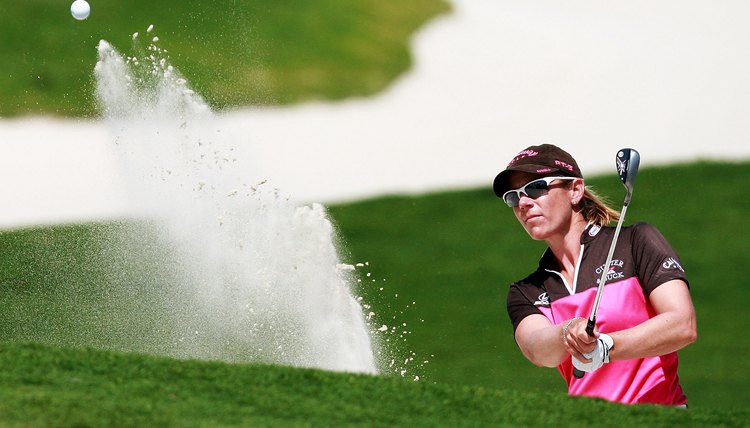 LPGA, which stands for Ladies Professional Golf Association, pays its players similarly to the PGA (the group for men). Players are paid based on performance in the golf tournaments they participate in. Different tournaments pay different amounts of money, but in general, the better you do in each tournament, the more money you make. Similarly, the more tournaments you play in, the more earning potential you have.
Highest-Paid Players
Annika Sorenstam is perhaps the most famous LPGA player. Throughout her career, she has earned about $20 million in tournament money, which is about 60 percent more than any other LPGA golfer, according to Forbes. On top of that, she makes much more money each year from sponsorships. Michelle Wie is another popular LPGA player. She made her professional debut at age 16, and quickly became one of the league's highest-paid players, though almost all her money initially came from endorsements, as it took her a few years to win a tournament.
Range of Earnings
Despite the potential to make millions, most LPGA players do not make that kind of money in a season. In fact, most make under $1 million in a year, and many make less than $100,000. Again, it all comes down to how well the players perform. For example, Na Yeon Choi played in 22 tournaments in 2010 and made almost $1.9 million. But Amanda Blumenherst played in the same amount of tournaments in the same year and only made $171,000. While Blumenherst's earnings are much higher than the national average annual salary, they are worlds apart from the mega-millions earned by superstar golfers.
Lowest Earnings
While many LPGA players make a good amount of money throughout a season, some barely make enough to live on. Ju Young Park and Diana Tham both only played in one tournament in 2010 and made zero dollars. But they are likely also golf pros at local country clubs or golf courses, and make their money through lessons or as salaried employees at the courses. According to the National Post, the lowest-paid player (aside from those who made zero dollars) is Jackie Gallagher-Smith, who made just under $1,800 in three tournaments. Almost 100 other players on that same list made under $100,000, and 65 of those players made under $50,000.
Men Versus Women
PGA golf tournaments typically have higher purses and pay more than LPGA tournaments, mainly because the PGA has more male superstars, which leads to more ticket sales at the tournaments throughout the year. However, some women have chosen to play in a handful of PGA tournaments to compete with the men. These players have had to qualify to play in PGA tournaments based on their previous LPGA tournament play. Michelle Wie and Annika Sorenstam have both played in PGA tournaments, but have never won. They make more money playing in LPGA tournaments and finishing at or near the top of the leader board than finishing low in PGA tournaments.
References
Writer Bio
Chris Newton has worked as a professional writer since 2001. He spent two years writing software specifications then spent three years as a technical writer for Microsoft before turning to copywriting for software and e-commerce companies. He holds a Bachelor of Arts in English and creative writing from the University of Colorado.