How to Become a Pro NBA Basketball Player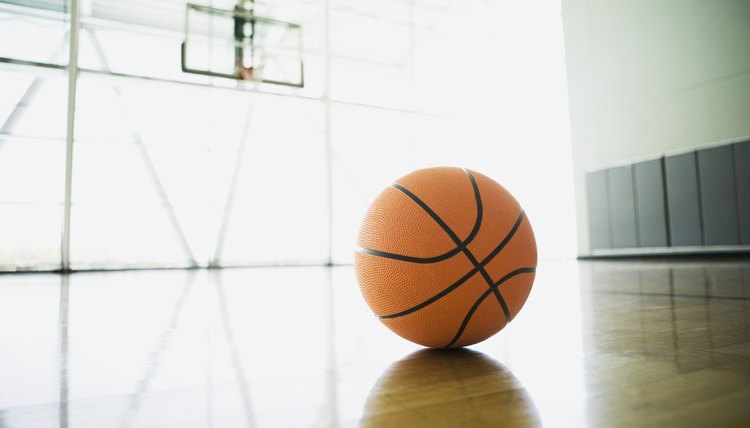 Reaching the NBA is nearly impossible. Most newcomers arrive through the annual draft, which features just two rounds and 60 picks. Not every drafted player makes a team. To reach this level, you must seek out elite competition and star at every stage of amateur basketball. "I watch to see where a player's skill set is in proportion to other athletes the same age," Indiana Pacers scouting director Ryan Carr told the U.S Sports Camps website. "I also look for athleticism ... Athleticism is speed, quickness, strength, as well as potential. Another key factor ... is basketball IQ -- I want to know if they really understand the game."
Develop Exceptional Skill
By joining a good developmental team at a young age, you can learn to dribble, pass, shoot, set picks, rebound and defend at a high level. Develop a well-rounded game. At the select CIA Bounce program in suburban Toronto, which has produced NBA prospects like Andrew Wiggins, players start intensive training in the second grade. "The young periods of these kids' lives are critical to teaching them skills, how to shoot properly and breaking bad habits," CIA Bounce coach Tony McIntyre told the Toronto Star.
Seek Elite Competition
Start your journey by playing against the best players in your age group in a select league. Then move up to a travel squad and face all-star teams from other areas. Many future NBA stars hone their skills in the 40-team Elite Youth Basketball League, which features the top high-school-age players in the country. Earning a spot on one of those powerhouses is a big step toward major college basketball and the pro ranks.
Get Faster, Stronger, More Agile
You can improve your leaping ability, lateral quickness and overall explosiveness through basketball-specific training. Focus on your core muscles. "I've had some amazing athletes over the years; [but] they couldn't bend over and touch their toes or squat into a low defensive position because they were just used to shooting the basketball," veteran NBA strength and conditioning coach Robert Hackett told Stack.com. "They may have been able to jump over the rim, but working on their range of movement and flexibility would've made them much better."
Raise Your Profile
If you local high school doesn't have a quality program with good training facilities, choose a strong private program. If you can earn a spot on a nationally prominent team like Oak Hill Academy or Huntington Prep, you will play a national schedule and gain extra exposure to college coaches. NBA teams can't draft players right out of high school, so your college choice is critical. Pick a school with a good track record for preparing players for pro ball.
Keep Polishing Your Game
Even collegiate stars must keep refining their game to make the NBA. Many aspiring players enroll in skill development programs after their school days. You can always improve your ball-handling and jump shooting. "I've got some catch phrases I use," popular shooting coach Drew Hanlen told NBA.com. "Elbow above eyebrow. Higher elbow, higher arc. Scientifically, if you increase arc, you have a better approach angle and you have more of a margin for error."
References
Writer Bio
Jeff Gordon has been reporting and writing since 1977. His most recent work has appeared on websites such as eHow, GolfLink, Ask Men, Open Sports, Fox Sports and MSN. He has previously written for publications such as "The Sporting News" and "The Hockey News." He graduated from the University of Missouri-Columbia School of Journalism in 1979 with a bachelor's degree.