How to Dress to Attend a Rodeo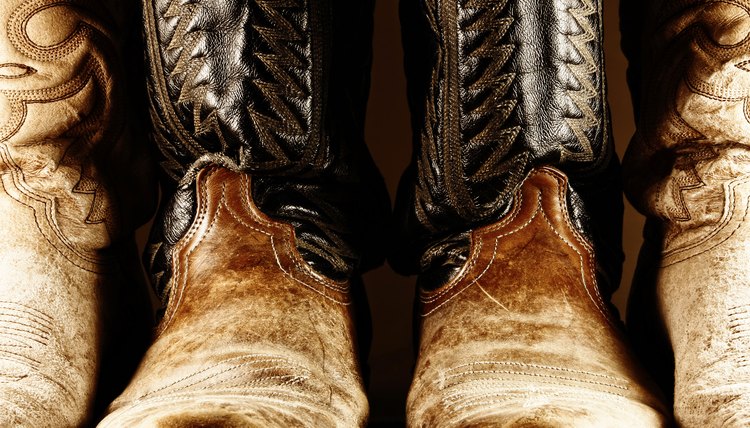 It may be your first rodeo, but that doesn't mean you can't show up looking like you know the ropes. Rodeos can happen anywhere, but are especially common in western and southern states -- which is why you will see no shortage of 10-gallon hats and denim. However, traditional western garb is not a necessity as an attendee. For men, women and children, a few key considerations should stay front of mind when choosing appropriate rodeo wear.
Dress for Comfort
One essential consideration is key for rodeos everywhere: Dress for comfort first. Rodeos are hours-long, often outdoor events and therefore the weather should always be factored into your wardrobe selection. It can be extremely hot during warm months, so opt for a breathable cotton or knit T-shirt. Shorts are cooler summertime options for men and women. Denim and flannel button-downs are common, sometimes over tees. Consider layers in case of cold or damp weather to keep you warm while still letting you look the part.
Boot Up
Good boots never go out of style, and there is no more appropriate arena to wear them than a rodeo. You'll see many rodeo participants and fans -- including women and children -- wearing high-quality leather cowboy and biker boots of all types. There's a reason for this: Leather boots are as stylish for line dancing as they are practical for stomping through the often muddy grounds of the rodeo.
Make It Modern
Some western looks are timeless, but others may be due for an update. At many rodeos today, you'll see fresher takes on classic cowboy and cowgirl getups, such as more modernized plaid and patriotic-inspired prints. For women, wearing V-neck or scoopneck lightweight cotton, lace or denim dresses to a rodeo is as common now as in previous decades, but the hem lengths are increasingly getting shorter. Turquoise jewels and other western-inspired embellishments are often depicted or embroidered. Denim skirts, dark skinny jeans and trendy biker boots are at times a more contemporary alternative to the traditional western wardrobe.
Top It Off
No rodeo look for man, woman or child is complete without a hat. Look for styles like the Nevada, the Dakota and the Cattlemen among other classic hat styles. For timeless looks that last, choose hats in felt, woven or leather with wide brims and crowns in various heights. For women, "pinchfront" hat styles are common for female rodeo attendees, as they have a sloped, nipped-in style that is flattering for elongating the face.
Don't Overdo It
Yes, there is a common style that might come to mind when you think of rodeo wear, but don't overdo a stereotypical western theme. If you've never thought of wearing a bolo tie before, you shouldn't now feel obligated to do so. According to "Houston Style" magazine, it's a good rule of thumb to wear no more than two western-style accessories at a time. For example, if you wear turquoise jewelry and embroidered suede boots, you don't also need a fringed jacket or a flashy belt buckle.
References
Writer Bio
Liza Hollis has been writing for print and online publications since 2003. Her work has appeared on various digital properties, including USAToday.com. Hollis earned a degree in English Literature from the University of Florida.