Funny School Mascot Skit Ideas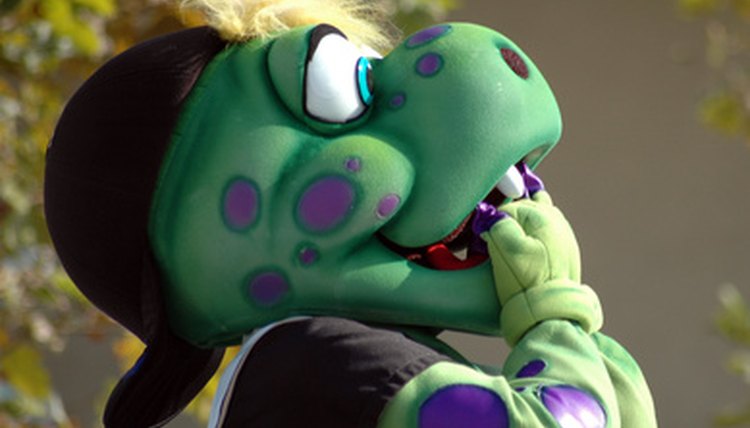 A mascot is much more than a costume—he is a part of the team and has a real personality that the audience comes to know and love. Create camaraderie with the team and fans by including them in your skits and enjoy the energy you create with funny moments such as these.
Playing with the Crowd
Act as if you have fallen in love with one of the spectators, 'asking' whether he or she wants to go out to eat with you, go for a drive, go dancing or perhaps stargazing. If there is a significant other, either act brokenhearted or angry, 'challenging' him to a duel.
Use a prop, such as a signed photo of yourself and a player or a bouquet of flowers, early on in the game. Plant the prop by someone's seat, act as if you are upset because of losing it and then find the hidden prop. Accuse nearby spectators of stealing it.
Notice a spectator's coat or hat and proposition him to give it to you or trade you for something. If they give it to you—or if you choose to take it—try it on and see that it doesn't fit. Return it to him, acting as if it a piece of junk.
Working with the Rival
Connect with the opponent's mascot before the beginning of the game. Stage a fight between the two of you, choosing ahead of time who will win.
Arrange to 'steal' one of his cheerleaders or vice versa. Duel it out with the rival mascot. For a funny twist, the cheerleader could choose to jump in and win the fight.
Sideline Skits
Use a water gun or Super Soaker to get the attention of the crowd during slower parts of the game or during breaks.
Try to get one of the cheerleaders to go on a date with you, similar to trying to get a spectator to go out with you. If the cheerleader refuses, pick her up and run away with her.
Join the band, cheerleaders or dance team. Learn a cheer or song, get some pom-poms or cymbals and show off your skills.
Pep Rallies and Halftime
Bring a spectator out to dance with you. Stop dancing and stare at her. Look at the audience and point at her, acting as if she is crazy.
Create a dance and skit to a well-known song. Popular choices include impersonating Elvis, doing a song from a musical, serenading a spectator with a love song or being a rapper. Dress up in a costume to make this more effective.
Writer Bio
J. Lynn Patten has her bachelor's degree in psychology from Central Michigan University and is working on her master's in drama from Texas Woman's University. She has worked with the young for more than eight years, in educational, social and artistic venues.