How to Join a Recreational Basketball League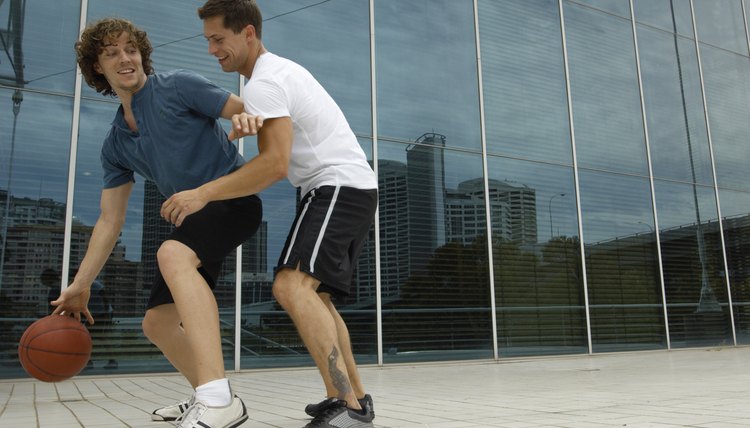 Recreational basketball leagues are commonly available through both your city recreation department and private companies, including men's leagues, women's leagues and leagues designed for coed teams. The leagues are typically structured into seasons, with a few seasons being offered every year.
Finding a League
Find leagues that are run through your city's recreational department by checking the department's website, which often provides information on parks, events and leagues. If you know of a city recreation center, stop in and ask if that particular location hosts a league. Either way, the staff member there will likely be able to give you information on which city facility does host basketball leagues. It's also a good idea to do a web search for "basketball league [your city]" to find nearby private companies that run leagues. While they're typically more expensive, they also can be better organized and offer more experienced referees.
Decide which type of league you want to join. In addition to being organized by male, female or coed, some cities and organizations will offer five-on-five and four-on-four leagues that play full court or three-on-three leagues that play half court. In addition, some leagues will separate players of different ages and more experienced players from beginners, so select the one that's right for you.
Joining or Building a Team
Leagues vary on whether they require you to sign up with your own team or if they allow you to sign up as an individual and then be assigned a team. Most leagues are organized into set team play, which means that you are on the same team every game. If you're looking to join a basketball league alone, you may need to also track down representatives from teams to see if you can join their team. The league's website may offer information on teams who are looking for players. Many teams prefer to have a limit of players so that they each are guaranteed a decent amount of playing time.
If you're looking to find others to join your team, ask your friends, family members, neighbors and co-workers if they'd be interested in participating. If you used to play basketball in high school or college, inquire with former teammates to see if they'd like to play.
Completing Registration
Register your team or sign up as an individual through the league's website. With city-run leagues, you may also be able to register in person at the facility where the league is hosted. You'll be asked to fill out a form with your information and will be required to sign a waiver. If you're signing up for your team, you'll need to provide each team member's name and contact information. You'll also pay the registration fee, which can vary significantly by league.
Once the registration deadline has passed, the league organization will put together a playing schedule and share it will the designated captain of each team. If that's you, make sure each of your team members gets a copy. Most leagues will require teams to provide their own reversible jerseys, so if you're the team captain, you'll need to gather each player's money and get their size so that you can handle the order. Check to see if your registration fee covers payment for the referees. Some leagues will require your team to come to each game with an assigned amount of cash for the referees.
References
Writer Bio
Kim Nunley has been screenwriting and working as an online health and fitness writer since 2005. She's had multiple short screenplays produced and her feature scripts have placed at the Austin Film Festival. Prior to writing full-time, she worked as a strength coach, athletic coach and college instructor. She holds a master's degree in kinesiology from California State University, Fullerton.