How to Make Your Own Soccer Penalty Cards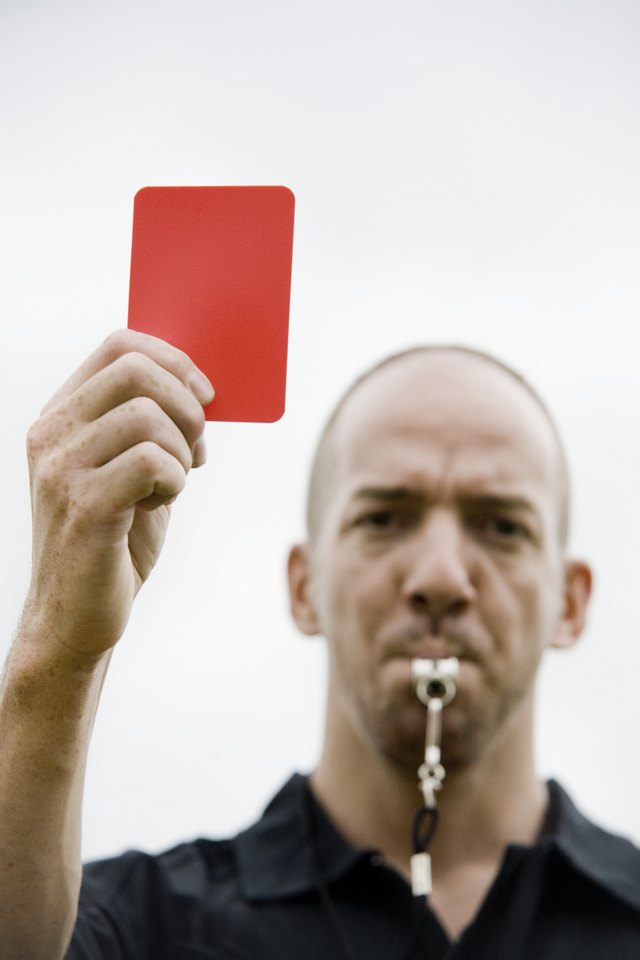 A soccer referee has two penalty cards, which he uses to indicate to players and spectators the disciplinary steps he is taking against a foul play. He shows a yellow card for a caution, or booking, and a red card when he is sending a player off. A player is sent off if he receives a second booking or commits a single, serious foul or breach of rules. Cards were introduced in the 1970 FIFA World Cup finals so referees could communicate their decisions to players speaking a variety of languages. Make your own cards to add a touch of professionalism when refereeing your next game.
Cut a 2-inch-by-1-inch rectangle from both the red and the yellow cards. There is no official size requirement, but for practical reasons, the card must be small enough to fit in your pocket but large enough to be visible to all players when displayed.
Snip all corners of the red card, approximately 1/8 inch from the edge. Doing so enables you to tell which card is which while in your pocket. This is preferable because pulling out both cards when refereeing can cause confusion. Since the red card is less frequently used, it makes sense for this to have the modified shape.
Polka Dot Images/Polka Dot/Getty Images
Draw a table on the yellow card, with two columns and 10 rows. Use this column to note down the number of the player cautioned and the minute of the game in which you issued the caution. Noting down the penalties enables you to keep track of which player has been booked. At the 2006 World Cup, English referee Graham Poll made a high-profile blunder when he issued three yellow cards to Croatia's Josip Simunic before issuing a red card. Under the official laws of the game, the player should have been sent off once he was given a second yellow.
Lay a piece of self-adhesive film on a table, sticky-side up. Place the red card on top of the film, and score around the edge of the card, leaving a 1/16-inch margin. Fold the extra film over the edges of the card. Place the other side of the red card on the film, and score out a second, equal-sized piece to cover the other side of the card. Fold the edges over to fully cover the card. This protects the card from rain and gives it a wipe-clean surface in case it's dropped in the mud.
Cover the empty side of the yellow card. Naturally, you shouldn't put self-adhesive film on the side with the table, as you won't be able to write on it.
Tips
Make two yellow cards for each game. If you issue a lot of bookings, you may run out of space for noting down player numbers.
References
Tips
Make two yellow cards for each game. If you issue a lot of bookings, you may run out of space for noting down player numbers.
Writer Bio
Simon Foden has been a freelance writer and editor since 1999. He began his writing career after graduating with a Bachelors of Arts degree in music from Salford University. He has contributed to and written for various magazines including "K9 Magazine" and "Pet Friendly Magazine." He has also written for Dogmagazine.net.