How to Sing the National Anthem at a Professional Baseball Game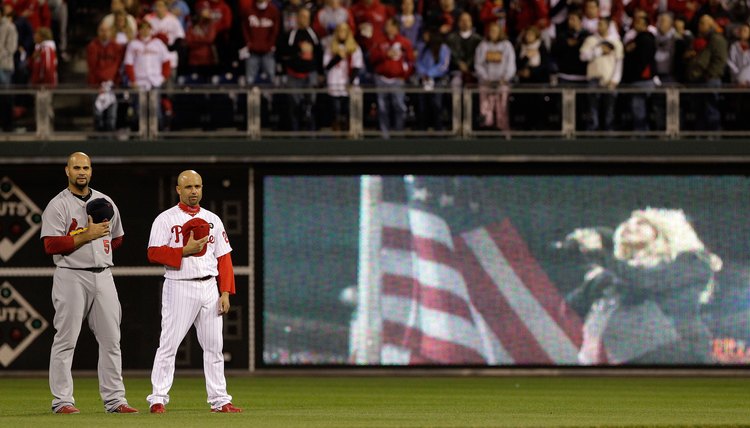 Most professional baseball teams, including the major league clubs, have a coordinator that handles issues like who gets the sing the national anthem. Most of the time, the honor goes to a special guest, or someone associated with a group at that night's game. However, some clubs do schedule singers based on CDs. Contact the local club in advance to find out when they accept these CDs. Even though the song is widely considered the most difficult song to sing, there is no shortage of people willing to try it at a game.
Record yourself singing the song a cappella (which means no musical accompaniment, just your voice). The rendition must be no longer than 90 seconds. The booking agent wants to know you can sing the song, not that you can sing it in five octaves.
Call the team's main switchboard number and ask them to connect you with the person who handles bookings for the national anthem. Sometimes they are called the talent coordinators, sometimes the booking agent, and sometimes they don't have an official name. Be persistent and keep calling until you find someone who can direct you to the correct person.
Burn a CD with your anthem rendition. Mail it and a cover letter that includes all of your contact information to the appropriate person. Send it certified mail with a return receipt to verify that it arrived. Include your name, phone number, and email address in the letter and on the CD in case the two get separated.
Wait two weeks before following up with a phone call. After that first follow-up call, do not continue to call. If they like your rendition, they will be in touch with possible dates.
If you are asked to sing, remember to dress respectfully. No shredded jeans, no teensy skirts and no strapless anything. If you are a female, avoid heels. They tend to sink into the infield, making it hard to walk.
References
Writer Bio
This article was written by the CareerTrend team, copy edited and fact checked through a multi-point auditing system, in efforts to ensure our readers only receive the best information. To submit your questions or ideas, or to simply learn more about CareerTrend, contact us [here](http://careertrend.com/about-us).