Sports Awards Banquet Ideas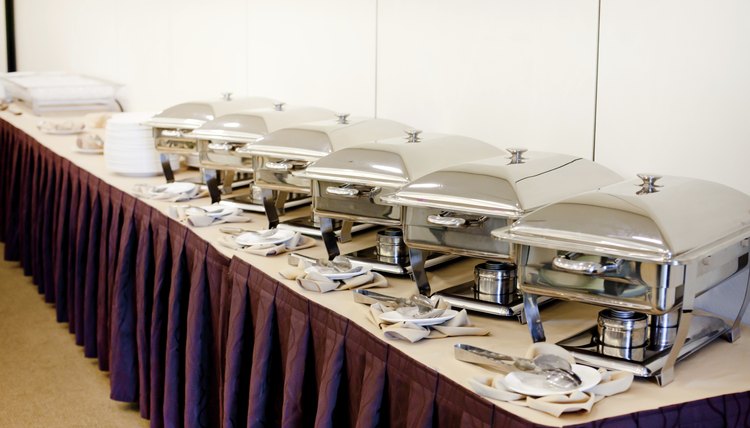 Sports awards banquets don't have to be boring or tedious when you liven up the event with a video or slideshow of the team's performance. The potential themes for banquets are endless with formal, informal and playful settings. Before planning a banquet, consider the age group and attention span of the athletes. Youth athletes prefer a socially stimulating and playful setting while older, more serious athletes will enjoy a more formal ceremony. Decorate in team colors or use sport-themed centerpieces to set the mood.
Banquet Hall Dinner
Schedule a separate room at a restaurant or hire a professional caterer for a formal dinner in a banquet hall for an adult sports team. Begin the evening with drinks, dinner and video clips or a slideshow of the team performing that builds energy for the presentations. Choose a menu with common ground to satisfy all of the guests. Pasta, chicken, salad, bread and appetizers are common fare. Present the awards to individual athletes and leave time for speeches from the coaches at the head of the room before the podium. A cake shaped like a football field, hockey rink, a jersey or uniform finishes the evening.
Arcade Pizza Party
A pizza parlor offers a classic setting that works for youth sports teams. Alert the pizza parlor in advance so they can plan for your group or select one with a large banquet room. Locations with arcades and games are ideal for entertaining and spreading out the group. Line the tables with pizza and let the kids play until you are prepared for award presentations at the end of the night. Arrange a poster board with pictures of the team and players in action, including at least one shot of every child on the team. Kids will enjoy cupcakes for desserts with decorative sports themed plastic inserts or their team number.
Potluck Barbecue
Take the party outside for fair-weather sports banquets. Hold a barbecue at a volunteer's house or schedule an outing at a public park. Use a potluck model to spread out the workload and to ensure plenty of diverse food is available. Barbecue the meat on a grill and make a nice spread on a big table for an easy self-serve. Plan games such as volleyball and horseshoes for entertainment. If a swimming pool is available, add a pool party to the attractive list of activities.
Fundraiser Auction
Combine your banquet with a fundraiser for next season. This two-birds, one-stone approach honors the current athletes, while helping the team gain an early start to next season's fundraising needs. Utilize any of the latter banquet ideas, but add a silent auction to the mix. Before the banquet, solicit local businesses for donations to the cause. Products and services are both common donations. Place the donations on tables with a sheet of paper to accept bids. Guests can bid on any of the options and all proceeds go directly to the team fund.
Decorating the Party
Nothing brings life to a party like authentic decorations and centerpieces. Hang uniforms on the walls, cover the tables with sports-themed tablecloths and match the napkins and cup colors to team uniforms. Add balloons and centerpieces, such as footballs sitting on a kickstand or glass bowls filled with miniature basketballs. Use assigned seating for formal events and build a picture tree with photos of the player as centerpieces.
Writer Bio
Zach Lazzari is a Montana based freelance outdoor writer and photographer. You can follow his work at bustedoarlock.com.