How to Start a Youth Football Team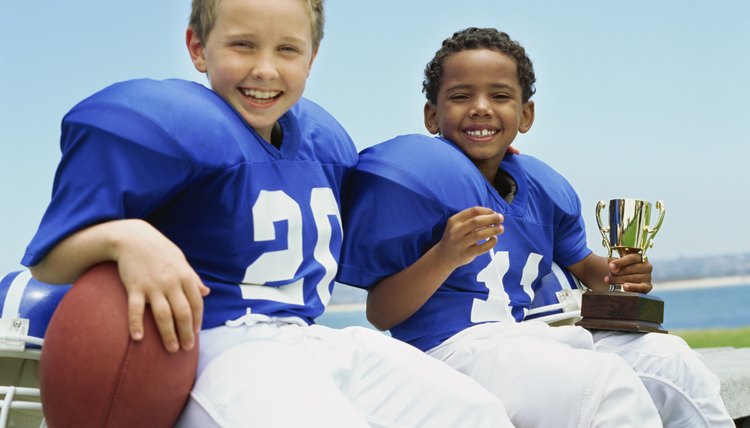 Starting a youth football team takes hard work. Fortunately, national organizations such as Pop Warner and the Amateur Athletic Union provide legal, organizational and promotional support to new teams. Regional and local programs, such as the Police Athletic/Activities League and Catholic Youth League, partner with groups like Pop Warner and the AAU. Joining an established league is the best way to launch a new team.
Affiliate
You could go the grass-roots route to starting a team. However, most kids you see playing on football fields are on teams affiliated with a youth football organization. Established in 1929, Pop Warner is the largest and oldest youth football program in the world. There are other regional and local organizations, such as rapper Snoop Dogg's youth football league. Most of these leagues adhere to rules established by USA Football, a youth football governing body, partially funded by the NFL. By going through these organizations, you gain access to safety information, liability insurance, experienced coaches and officials, assistance with background checks and ongoing training.
Create Organizational Structure
Even with a national governing body, your team must create its own organizational structure. This includes a board, coaches and volunteers. Key coordinator positions need to be filled in areas of registration, marketing and concessions. In its "Quick Start" guide, the AAU recommends establishing a team philosophy first. Will this be a participation -- everyone gets to play -- or a performance team, aimed at winning titles? Will tryouts be area-wide, local or by invitation only? What age or size restrictions will you have for team participants? What will the team's name be? Developing a detailed organizational structure will make it easier to manage things.
Recruit Players
Once your board, coaching staff and volunteers are in place, it's time to recruit players. Decide how many players you want. The size of the team impacts everything from the number of coaches you need to the amount of the registration fee. Consult your affiliated governing organization about league minimum and maximum team size. Leave flyers at area recreation centers. Place signs around the neighborhood, including on library and coffee shop bulletin boards. Create a Facebook page or website where parents of potential players can get more information. Consult other teams in the league about recruiting practices.
Promote and Market
Aim marketing efforts at potential players and sponsors. Your affiliated governing organization can provide marketing materials such as templates for signage and postcards. Create alliances with local recreation centers and other youth sports leagues. Seek sponsors to support the team. Offer to incorporate a major sponsor's brand into the team's name. Create sponsorship opportunities, such as soliciting an official team burger joint for post-game meals. A greater number of sponsors translates to a lighter financial burden for parents. Lower membership costs open the door to more participants, which makes it easier to sustain a new team.
References
Writer Bio
ML Corbett covers interior design, real estate and small business, among other topics. A former day spa owner and marketing manager for an international fragrance company, Corbett knows the ins and outs of the beauty industry. Her work has appeared in "Essence," "Black Enterprise" and on HGTVGardens.com.