Tips on Getting Autographs on Baseball Induction Weekend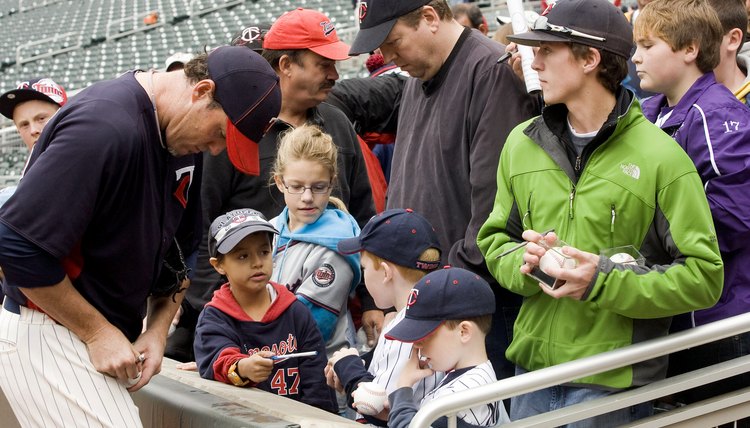 The Baseball Hall of Fame first opened its doors on July 12, 1939. The first inductees of the museum were Babe Ruth, Honus Wagner, Christy Mathewson, Walter Johnson and Ty Cobb. Since then, every year fans flock to Cooperstown, New York to see their childhood heros inducted into the hall. Aside from witnessing the induction ceremony, fans also try to score a few autographs from the players in attendance.
Autograph Sessions
Autograph sessions are not part of the official induction ceremony. However, autograph sessions are often put together by third party companies at some point during induction weekend with both the inductees and other players who have come for the ceremony. Search for autograph sessions as soon as you decide to take the trip for the weekend. Websites such as Hardball Times, the Cooperstown Chamber of Commerce and Tristar Productions, who holds signings in Cooperstown, are all resources which post the details of upcoming autograph sessions. Plan ahead by learning where and when the sessions are being held. If possible, purchase tickets ahead of time.
Parking
Cooperstown is a very quaint town in upstate New York with a population of less than 2,000 people. According to the official museum website, parking around the museum is very sparse. They have instituted a trolley system with satellite parking lots outside of the town. Rather than fighting traffic as you try to get autographs at various events over the weekend, park outside of town and use the trolley system to save time and aggravation. Also, because the town is so small, it is easy to walk from event to event up and down main street where the museum is located. This means if you are attending two autograph sessions within town, you'll most likely be able to walk to each.
Autograph Material
Purchase items that you wish to be autographed before you get to Cooperstown. Though there are many baseball-themed shops in the heart of Cooperstown, they may run out of your desired item the weekend of the induction ceremonies. Additionally, because you are in the heart of the town where baseball began, prices may be higher for memorabilia items and apparel than if you purchased them from another retailer.
Tunnicliff Inn
The Tunnicliff Inn is one location where autograph signings are held each year for the players being inducted into the actual Hall of Fame. Established in 1802, all rooms include cable television, telephone and a private bathroom. Guests of the hotel are also offered a free hot breakfast. Additionally, there are two restaurants on site including the James Fenimore Cooper Dining Room and the Underground Restaurant and Tavern. Staying at the hotel gives you an edge over other autograph seekers as you won't have to worry about parking and will know exactly when the show starts to set-up so you can purchase tickets and get in line.
References
Writer Bio
Scott Damon is a Web content specialist who has written for a multitude of websites dating back to 2007. Damon covers a variety of topics including personal finance, small business, sports, food and travel, among many others.