Types of Soccer Awards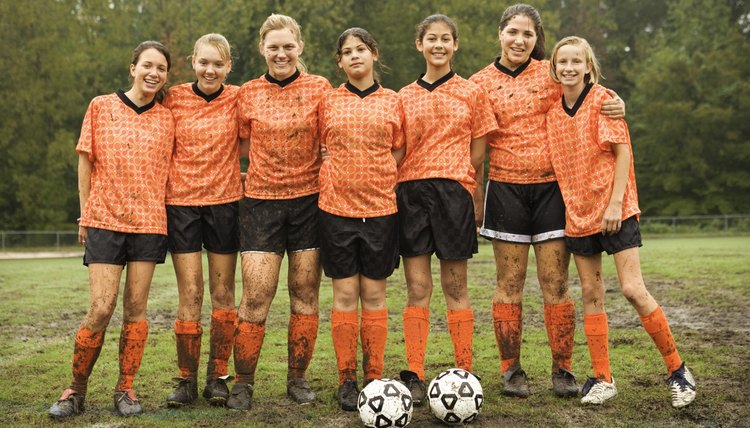 At the end of each soccer season, coaches begin determining which players will receive an award based on attitude, dedication and hard work. While the kinds of awards vary with every coach, it's common for coaches to create awards that accommodate each and every player, especially when dealing with youth athletes.
Coaches often consider the "Five Pillar" assessment in evaluating players for award recognition. This method takes into account a player's mental, physical, technical, tactical and lifestyle attributes.
Most Improved
Most improved awards recognize players who have shown "stand-out" improvement in various areas of the game. While a player in each position could earn a most improved award, the most common cover improvements in offensive and defensive play, a goalie that has shown considerable improvement in blocking goals, or someone who has exhibited an overall improvement in their game.
Two awards—the "Coaches Award" and the "Golden Boot Award"—recognize additional qualities that typical awards may not address. The "Coaches Award" is given to a player that exhibits special skills, academics, community service or other exemplary criteria that may otherwise go unnoticed. The "Golden Boot Award" is typically given to the player who is the best overall player in the sport.
Best/Most
Awards for the best and most number of plays during the season recognize players that have memorably displayed exceptional skills or set season records. These soccer awards can cover a variety of areas, such as most assists, the most memorable goal, most number of corner kicks and the like. Some award very specific achievements as well.
Attitude, Character & Leadership
Soccer awards that emphasize the importance of sportsmanship are essential. These recognize players that possess skills that are critical to the bonding and foundation of the team. These qualities consist of class and positive attitudes, as well as respect for each other, coaches, fans and opposing teams. Awards for attitude, character and leadership include such general statements as good sportsmanship, best leader or even a player who everyone else deems is the most fun to be around.
Miscellaneous Soccer Awards
Miscellaneous awards can include any awards that the coach would like to present to anyone that has demonstrated dedication to the team through spirit, team communications, providing refreshments, taking pictures or simply cheering the team on through victory and defeat. These awards are most often reserved for parents, dedicated spectators, assistants and team managers. Miscellaneous awards can be called "Best All-Around Spectator Award," "Refreshment Leadership Award," "Most Valued Sponsor Award," or even "Best Vocal Team Supporter."
References
Writer Bio
Patricia Hill is a freelance writer who contributes to several websites and organizations, including various private sectors. She also contributes to the online magazine, Orato.com. Empowered by a need to reveal that unhealthy food and diet is a source of health-related issues, Hill is currently working on a cookbook and website for individuals with Crohn's disease.