How to Watch TV at a Tailgate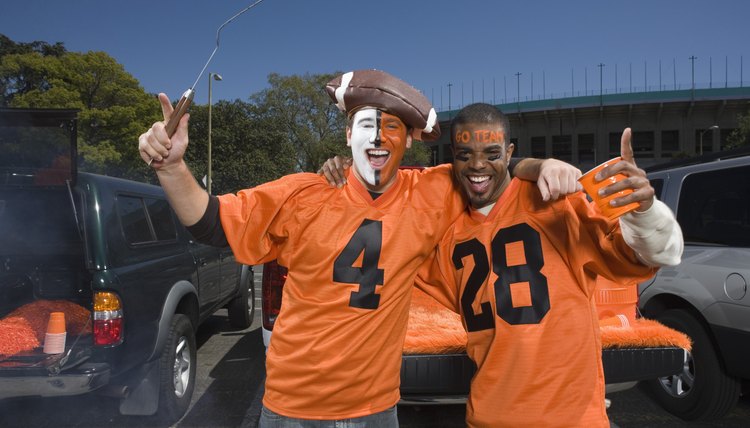 With the advent of mobile technology, you can make tailgating the main event by using satellite or wireless connections to watch television via your smartphone, tablet, laptop or even giant-screen TV. Whether using your home-based cable or satellite subscription remotely, or tapping into wireless connections, you can turn any tailgate into a parking-lot paradise with live-streaming video.
Via Automobile Connection
Once a mere fantasy found in James Bond flicks, today cars come with built-in technology that allows you to watch streaming video of live television. According to a March 2014 article in USA Today, automakers are equipping new vehicles with high-speed broadband access. As is the case with other wireless Internet services, access requires a subscription. General Motors' Onstar system provides connectivity to up to five mobile devices. Charges are based on the amount of data used. With a pair of lawn chairs and a wireless connection, the back of a hatchback can become a television viewing station.
Satellite Connection
Even the best wireless connections experience lapses. A satellite television option might be a better choice, especially if you tailgate for long hours. This requires a recreational vehicle, van or SUV with a satellite connection. Portable mini-satellites, such as the Tailgater and Winegard Roadtrip MiniMax, seek out signals for you. These satellites work with companies such as DirecTV and Dish Network and require a subscription.
Smartphone, Tablet or Laptop
Using wireless or satellite technology, you can watch television on a smartphone, tablet or laptop. Most cable and satellite television providers allow subscribers the option of watching television on mobile devices via an app. These apps, such as ESPN's WatchESPN, provide a menu of live and video on-demand options. You can also use a broadband air card, connected to a tablet or laptop computer, to tap into streaming feeds from ESPN3, CBS, Fox and other stations that broadcast sports. Another option is sling box, a service that lets you view your home cable or satellite service from anywhere.
RV Rental
For the ultimate tailgating television viewing experience, rent or purchase a recreational vehicle with the latest technology. Some RVs come with flat-screen televisions and cable or satellite televisions complete with DVD players, surround sound and video-game hookups. A costly option, buying a luxury RV is an investment for the serious, dedicated tailgater. An alternative would be to split the cost of a rental with friends and fellow tailgaters. Make sure your RV has a reliable generator to supply enough power for all the devices in your parking-lot paradise.
References
Writer Bio
ML Corbett covers interior design, real estate and small business, among other topics. A former day spa owner and marketing manager for an international fragrance company, Corbett knows the ins and outs of the beauty industry. Her work has appeared in "Essence," "Black Enterprise" and on HGTVGardens.com.