What does fact checked mean?
At SportsRec, we strive to deliver objective content that is accurate and up-to-date. Our team periodically reviews articles in order to ensure content quality. The sources cited below consist of evidence from peer-reviewed journals, prominent medical organizations, academic associations, and government data.
The information contained on this site is for informational purposes only, and should not be used as a substitute for the advice of a professional health care provider. Please check with the appropriate physician regarding health questions and concerns. Although we strive to deliver accurate and up-to-date information, no guarantee to that effect is made.
Exercises to Improve Hip Flexibility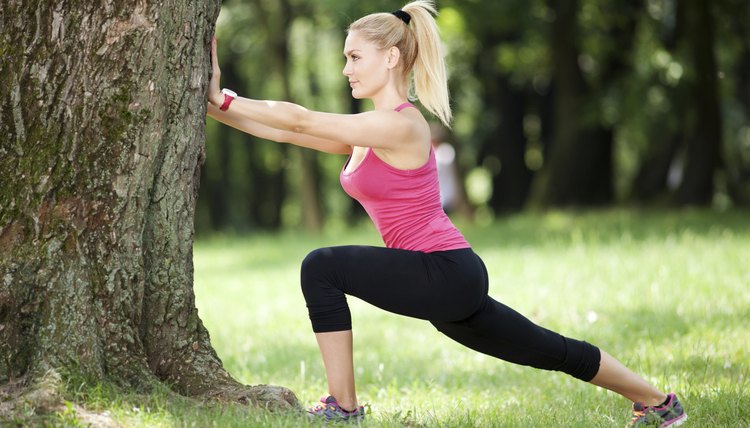 Your hip joint is the site where your leg meets your pelvis. Because of the great number of muscles acting on or crossing over your hip joint, and because of these muscles' propensity to become tight and inflexible with disuse or overuse, it's important for you to participate in a regular stretching routine that targets your psoas, hamstrings and piriformis muscles. Regular stretching for hip flexibility is particularly important for athletes, to lower the risk for injury in demanding sports.
Releasing the Psoas
Your psoas muscle is about the size of your forearm and runs from the transverse processes of your lumbar vertebrae to the top of your femur. Your psoas muscle assists with thigh flexion when your trunk is fixed, and frequently is the site of trigger points--tender knots or bands in your muscle--and muscle tightness. Chiropractor Warren Hammer believes that chronic psoas shortening can be the result of sleeping in a fetal position, sedentary lifestyles, and exercises and sports that call for repetitive hip flexion. Reduce psoas tightness and improve hip flexibility with a kneeling groin stretch. From a kneeling position, place one foot in front of your body with your knee bent. With your gaze locked on the horizon and your back straight, place both of your palms on your leading knee and gently lunge forward, keeping your hips square. Do not allow your front knee to move ahead of your ankle. Hold this stretch for one minute, then repeat on the other side.
Hamstrings and Hip Flexibility
The hamstrings are three muscles in your posterior thigh: semitendinosus, semimembranosus and biceps femoris. Hamstring muscles perform several functions, including hip extension when your trunk is fixed. A stretching program designed to improve hip flexibility should incorporate standing forward bends. To perform standing forward bends, stand upright with your feet together -- knees straight but not locked -- bend forward and grab your legs at the lowest possible point. Bend your upper body at the hips to feel the stretch in your hamstrings and lower back. Hold your stretch for 10 to 15 seconds, then slowly return to your upright starting position. Repeat this exercise three to five times.
Stretching Your Piriformis
Your piriformis muscle is a pear-shaped muscle that runs from your sacrum to the top of your femur and is responsible, along with several other hip muscles, for laterally rotating your hip. A tight piriformis muscle can contribute to painful conditions such as sciatica and piriformis syndrome, which restrict free range of motion at the hip. Piriformis stretches will improve hip mobility and flexibility. Lie on your back with both knees bent, feet resting flat on the floor. Place your right ankle on your left knee, assuming a "figure four" position. Reach behind your left knee with both hands and slowly pull your left knee toward your chest. You should feel a gentle stretch on the outside of your right hip. Hold the stretch for five to 10 seconds, then relax. Repeat this stretch 10 times on each side of your body.
References
Writer Bio
Martin Hughes is a chiropractic physician, health writer and the co-owner of a website devoted to natural footgear. He writes about health, fitness, diet and lifestyle. Hughes earned his Bachelor of Science in kinesiology at the University of Waterloo and his doctoral degree from Western States Chiropractic College in Portland, Ore.