How to Get a Job As a Round Card Girl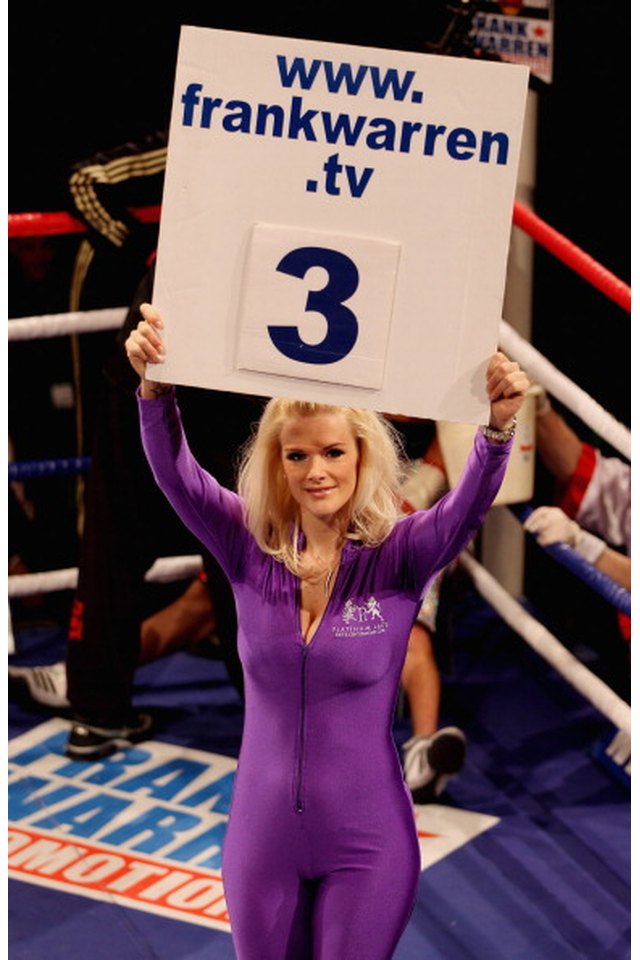 Ring card girls are the eye candy at boxing and fight club events. Bikini clad or leotard-wearing girls circle the canvas holding up cards indicating the number of the upcoming round while athletes take breaks in their corners. In many instances, you must be 21 years old to seek this kind of employment. Getting a job as a round card girl is a straightforward process and is sure to bring in a handy supplemental income -- $60 to $100 per hour.
Get in shape. Sign up for a gym membership or purchase exercise equipment to workout at home. Condition your entire body to make it seductive and attractive. Cover blemishes with makeup. Apply lipstick, eye liner, eye shadow, blush, nail polish and tanning lotion to boost your appeal.
Hire a photographer to take your headshots, three-quarter and full body shots. Shoot photos of your wearing different bikinis, bathing suits, leotards and other attractive wear. Compile the finest images into a portfolio.
Put together a resume including modeling, acting and/or performing work. Note any beauty pageants for which you received acclaim or awards received. Include references and personal contact information on the resume.
Contact a modeling agency like Right Cross Entertainment, for example, that handles round card girls and models. Set up an appointment with agency representatives. Present your portfolio and resume. State your professional goals are a potential round card girl. Ask pertinent questions, including issues regarding freelance and exclusive representation, commission and access and status of the agency. Sign with the agency if it meets your wants and needs.
Do your own research. Log online to search fight promoters or boxing and fight club events. Visit the Barbarian Fight Club website, for example. Scroll to the bottom of the home page. Click on the "Barbette Registration" tab. Complete the registration data form with all necessary personal and modeling agency information. Request an in-person interview. Attach your most attractive photos. Click the "Submit" tab.
Writer Bio
Jeffery Keilholtz began writing in 2002. He has worked professionally in the humanities and social sciences and is an expert in dramatic arts and professional politics. Keilholtz is published in publications such as Raw Story and Z-Magazine, and also pens political commentary under a pseudonym, Maryann Mann. He holds a dual Associate of Arts in psychology and sociology from Frederick Community College.