Review of Giant Comfort Bikes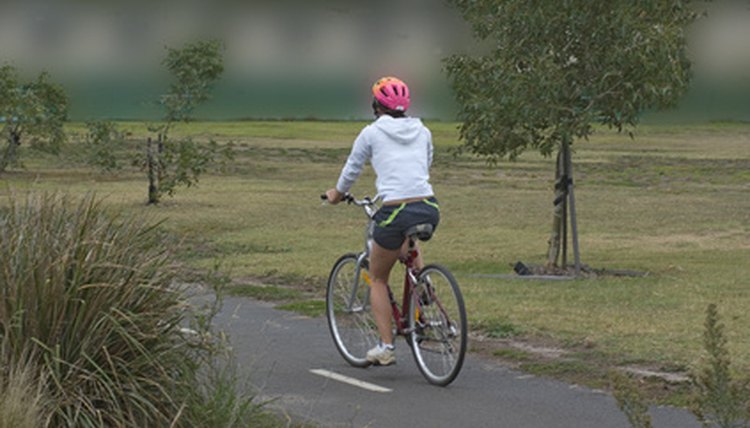 What to Look For
A comfort bike often resembles a mountain bicycle. Giant manufactures one comfort bike, according to the Giant website. The Cypress DX offers a variety of sizes and colors, according to online bike source BikeReviews.com. Comfort bicycles, like the Giant Cypress, often have smooth tires, suspension seatposts and adjustable handlebar stems. The Cypress offers black and white/blue traditional frames and silver/turquoise and red/lavender step-through frames. Giant frame sizes measure frame seat tubes in inches. Giant offers five Cypress traditional frame sizes, 14, 16, 18, 20 and 22, and three step-through sizes, 14, 16 and 18.
Common Pitfalls
Cyclists often want comfort bicycles to ride off-pavement, as comfort cycles resemble mountain bicycles. Most mountain bike designs plan for such abusive riding, but comfort bicycle designs plan for riding on pavement or gentle off-road trails. Giant Cypress comfort bicycles offer suspension forks similar to mountain bikes, but mountain forks offer more travel and stronger alloys than comfort forks. Comfort bicycle designs offer upright seating positions many cyclists find uncomfortable for long-distance riding. Proper cycle seating should distribute rider weight roughly evenly between saddle and handlebar grips.
Where to Buy
Cyclists may purchase Giant Cypress comfort bicycles at authorized Giant dealers only. Most large cycling companies do not permit bicycle sales through mail order, as a way to preserve dealer trust. Shoppers can locate Giant Cypress comfort bicycle dealers through the Giant website store locator. Simply provide a postal zip code and the store locator pinpoints the closest Giant dealers. Giant manufactures many bicycle frames for other cycling companies as well. As such, many Giant bicycles offer better deals than comparable offerings from other manufacturers.
Cost
The Giant Cypress DX carries a manufacturer's suggested retail price of $500, according to BikeReviews.com. Many local bicycle shops run special sales offering up to 10 percent off the cost of a new Cypress. Often, new Cypress bicycles retail under manufacturer's suggested retail prices. The Cypress may carry a tag as low as $479.99 in many shops. Most cyclists do not realize that local bicycle shops often sell bicycles at costs as low as cycling manufacturers will permit. Bicycle manufacturers contract local bicycle shops to conform to certain sales requirements while in the model year.
References
Writer Bio
Jonathan D. Septer offers more than a decade of professional writing experience and owns/operates Bone Machine Books in Kent, Ohio. A professional bicycle mechanic with more than ten years experience at various Midwestern shops, Septer studied at Kent State University, where he earned his Bachelor of Arts in English.