The History of Roadmaster Bicycles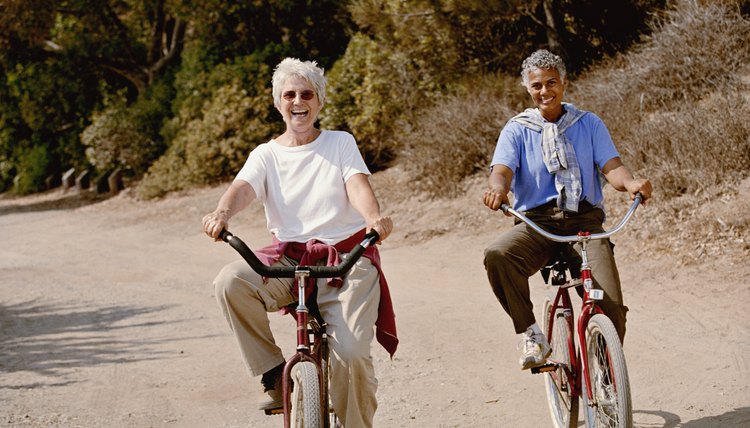 Roadmaster is a brand of bicycles sold in the United States. As of January 2011, the Roadmaster brand is owned by Pacific Cycle, a subsidiary of Canada's Dorel Industries. In the 1930s and the years after World War II, Roadmaster made some sturdy steel-frame bikes that are desirable for vintage bicycle collectors. By the early 21st century, however, Roadmaster bicycles had become a low-end product sold at discount stores.
Early Years
Roadmaster brand bicycles were first introduced in 1936, being made by the Cleveland Welding Company. The 1936 Roadmaster model bike was a solid, heavy bike with a steel frame and thick tires. The 1937 Roadmaster Supreme model contained additional features, such as built-in headlights, a rubber-cushioned gooseneck and other unusual features that make this model sought after among vintage bicycle collectors. In 1938, Roadmaster made another stylish bicycle, the Roadmaster All American Supreme.
Post-War Years
In 1950, the company American Machine and Foundry, or AMF, bought Roadmaster's children and youth bicycle lines from the Cleveland Welding Company. Ross Petty, in a 2007 article, reports that in 1953 AMF moved Roadmaster bicycle production from its Cleveland plant to a factory in Little Rock, Arkansas. The new factory was highly mechanized, using conveyor belts and automated machinery in the manufacture of bicycles. In general, the bicycles mass-produced in this new factory were of lesser quality than earlier Roadmasters.
Decline
AMF diversified the types of bicycles produced during the 1970s, making BMX bikes and mopeds as well as exercise bikes. The company division dealing with bicycle manufacture began to struggle financially during this time, and the quality of bicycles produced decreased somewhat. Roadmaster bikes were known during this time for being of poor overall quality and difficult to fix. Like other bicycle companies in the U.S. during the 1970s and 1980s, Roadmaster bikes were struggling to compete with cheaper imported bicycles.
End of the Road
The popularity of mountain bikes in the early 1990s gave Roadmaster a boost in sales--demand for mountain bikes grew so much that a new bicycle factory was built in Illinois to keep up with the increase in Roadmaster sales. However, continuing and intensifying competition from foreign bicycle manufacturers continued to decrease Roadmaster's profits. In 1999, U.S. production of Roadmaster bikes was finally shut down. The Roadmaster brand was sold to Pacific Cycle, which now distributes Roadmaster-branded bikes that are mass-produced in China and Taiwan.
Writer Bio
Jae Allen has been a writer since 1999, with articles published in "The Hub," "Innocent Words" and "Rhythm." She has worked as a medical writer, paralegal, veterinary assistant, stage manager, session musician, ghostwriter and university professor. Allen specializes in travel, health/fitness, animals and other topics.