How to Create Your Own Soccer Shoes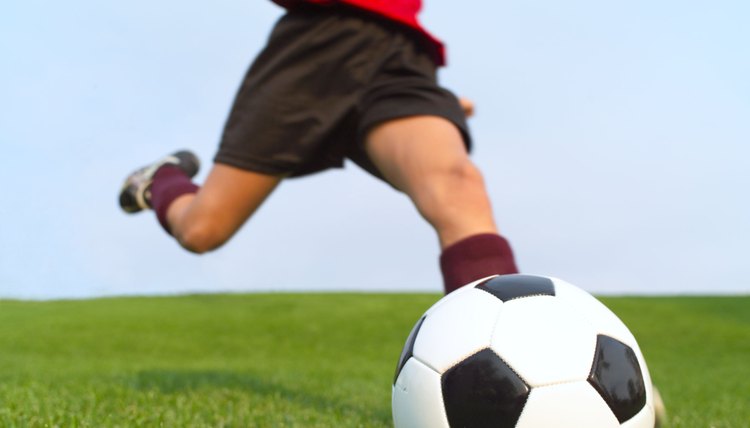 You have a unique way of playing soccer and your shoes should match your style. Instead of picking your shoes off the rack, customize your shoes for the best fit, color, ball control and speed. Although you are not sewing the leather on these shoes, you can choose your style through companies such as Nike and Adidas and have customized shoes like professional soccer players. With a few clicks on your computer, you can create your own soccer shoes in minutes and enjoy hours on the soccer field.
Start Line
Customized soccer shoes begin with the right fit. Ask a professional shoe salesperson to measure both of your feet and recommend the correct shoe size. Then, select a soccer shoe-making company that has the styles you like. If you have previously worn shoes by a company such as Nike or Adidas and like the way the shoes fit, you can begin with one of these companies. Each company offers shoes for males or females, so select the correct gender to match the corresponding size.
Mid-Field
Some shoe companies let you select the sole of the shoes based on the type of ground on which you play. If you choose to customize your shoes with Nike, this is your first selection. The choices are soft ground, firm ground, indoor court and turf. These options may vary with the time of the year. If you play outdoor soccer on firm ground during the summer and fall, you want a shoe that fits snug for speed and directional changes, has passing pads for ball control and is made of soft leather for comfort. If you play mostly on soft ground like you find in the spring, you want a shoe with slightly longer cleats for better traction. Once you select the sole, you can customize the color of it to match your style. (Ref. 1 and 2)
Going Green
Different shoes are made of different materials. Using the Nike customized program, you have a choice of shoe materials such as synthetic, leather, reflective, metallic and patterned. Base your choice on comfort and requirements. For example, if synthetic shoes cause blisters on your feet, stick with leather-based products. Or, if you the feel of leather leaves little protection between your feet and the ball, switch to a synthetic-based shoe that may be a little thicker. (Ref. 1)
Fast Feet
Your fast feet will catch the eye of the audience when you color yourself in bright orange, yellow or pink. These are not your only choices, as you can select various colors for all the different parts of your shoes. You can color the heels, tops, sides and laces to match your favorite soccer teams, your team or your favorite colors. The computer instantly shows you the look of your shoes and how each color compliments the other. (Ref. 1 and 2)
Bring It Home
The final selection for creating your soccer shoes is the size and width. Be sure to order the right size as customized shoes cannot be returned. Once you select a shoe, you may need a wider-width shoe to accommodate your feet and for a comfortable game. A few more clicks to add your shoes to your shopping cart and pay for your purchase and your shoes are on their way. Expect delivery in approximately four weeks if ordering from Nike, so order early before your season begins. (Ref. 1 and 2)
References
Resources
Tips
You can also peruse designs created by others at online purveyors of custom shoes and select one of these.
Writer Bio
An award-winning writer and editor, Rogue Parrish has worked at the Washington Post, the Baltimore Sun and at newspapers from England to Alaska. This world adventurer and travel book author, who graduates summa cum laude in journalism from the University of Maryland, specializes in travel and food -- as well as sports and fitness. She's also a property manager and writes on DIY projects.