The History of Street BMX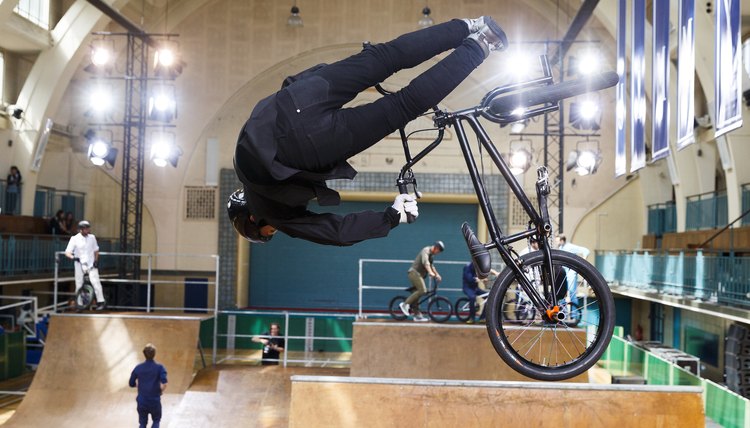 BMX, or bicycle motocross, is an intense sport that involves racing at extreme speed on bicycles, in a motocross style, on tracks with an inline start and obstacles along the way. The term BMX also refers to the bicycle that has been designed specifically for dirt and motocross cycling.
History of Freestyle BMX
Street BMX is a type of freestyle BMX that began in the late 1970s. During this era, the BMX bikers spent a lot of their time on BMX bikes at concrete skate parks in San Diego, California. In 1979, the first freestyle BMX team was created, known as the BMX Action Trick Team.
What Is Street BMX
Street BMX involves riding your bicycle through obstacles that are manmade, most of which are not designed for bicycles in the first place. Some of these obstacles include stairs, handrails, ledges, banks, curved walls and architectural designs in unusual shapes. Even a simple curb can be used during this.
Origin
Street BMX drew its inspiration from the motocross superstars of that era. The availability of the Schwinn Sting-Ray, along with several other wheelie bicycles, made them very popular as bikes for BMX. A large percentage of bike riders today participate in Street BMX because of the lack of rules and regulations, and also because it stresses on the creative part of the game.
Evolution of Street BMX Bike
The majority of freestyle street BMX bikes have 20-inch wheels. While there might be a difference in frame sizes and geometry, the top tubes will generally remain between 20 to 22 inches long. Beginner BMX riders tend to purchase store-bought complete bikes, however, more experienced riders generally build custom bikes from the ground up.
Requirements for Street BMX Riders
Street BMX racing has evolved to mean that street riders will not have any brakes on their bikes and, if they do, they will not be gyro brakes, they will tend to be just straight cable. The street racing bikes have front and back pegs on side of the bike, and bikers tend to ride without flanges on their grips. This is because the flange often tend to get in the way while doing a bar spin trick.
Writer Bio
Charles Webb has been writing since 2000. He works as a copy editor and as the feature health-and-fitness writer for the "Pasadena Citizen." Webb has a Bachelor of Arts in journalism from the University of Houston.