Men's Health Vs. Men's Fitness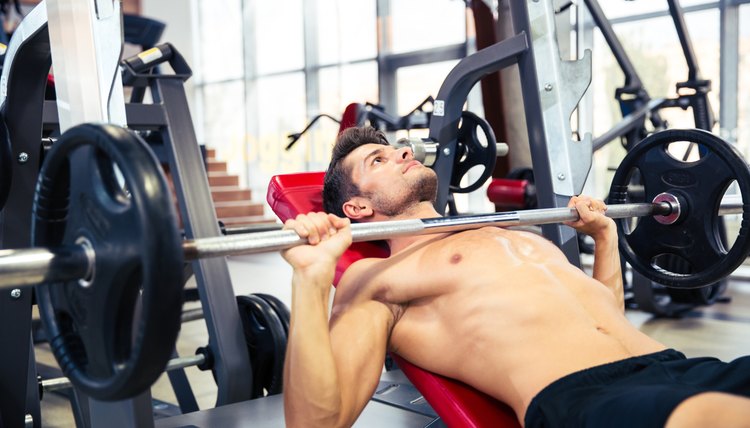 Women's health and interest magazines dominate newsstands and grocery store aisles across the country. Few titles are devoted specifically to men; of the 480 magazines measured by the Magazine Publishers Association, just three have the word "Men's" in the title. Two of them, "Men's Health" and "Men's Fitness," cover similar topics but maintain their own specific market shares.
"Men's Health" History
Published by Rodale Inc., "Men's Health" bills itself as the best-selling men's magazine in the world. First published in 1987, "Men's Health" lends its name to 43 worldwide editions and publishes the "Eat This, Not That" series of nutrition guides.
"Men's Fitness" History
"Men's Fitness" was first published in 1987 as "Sports Fitness" magazine by Weider Publications. It has since been acquired by publishing giant American Media, which owns titles such as "Playboy," and celebrity tabloids "Star," "Globe" and "National Enquirer."
Philosophy
According to Rodale Inc., "Men's Health" provides its readers with the resources to improve their lives. "It's the brand for active, successful, professional men who want greater control over their physical, mental, and emotional lives."
"Men's Fitness" aims at the young professional man, combining health and fitness tips with lifestyle and personal appearance articles.
Regular Features
The magazines have a number of similar features in each issue. "Men's Health" breakers its magazine into fitness, sex and women, health, nutrition, fashion and grooming. "Men's Fitness" issues have broader departments, including fitness, nutrition, sports and outdoors and lifestyle.
Readership
"Men's Health" ranked third in subscriptions, 1,391,854, and overall sales, 1,862,937, for men's magazines in 2009. According to the MPA, only "Maxim" and "Playboy" have larger readerships in this segment. "Men's Fitness" ranked 122 of 480 in overall sales with 654,571. In terms of single-copy sales, "Men's Health" was the most popular periodical devoted to men. It ranked 14th in 2009, selling 471,084 copies.
References
Writer Bio
Jared Paventi is the communications director for a disease-related nonprofit in the Northeast. He holds a master's degree from Syracuse University's S.I. Newhouse School of Public Communication and a bachelor's degree from St. Bonaventure University. He also writes a food appreciation blog: Al Dente.