Specifications for a Schwinn Le Tour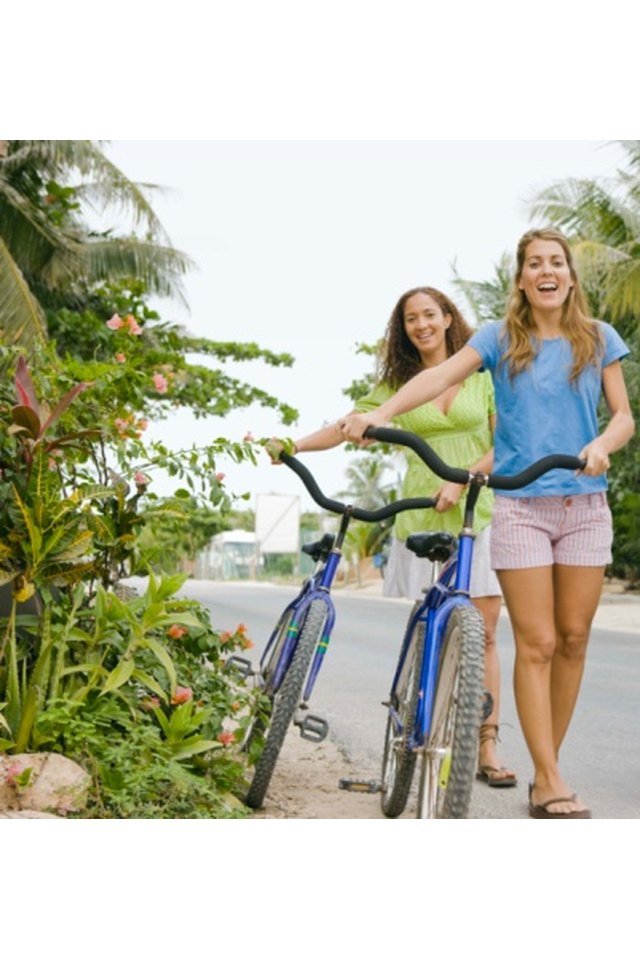 The Schwinn Le Tour is a bike model made in the 1970s and 1980s. According to Re-cycle, the Le Tour is Schwinn's first European-style touring bike, although parts of it are manufactured in Japan. The Le Tour line was different from all the other Schwinn bicycle lines because it was the first Schwinn bicycle with parts that were made outside of Chicago. To this day, the Le Tour is still discussed in the bike community. Bikeforums.net, a community of bike experts and enthusiasts, contains many discussion threads mentioning the Le Tour.
History
There were three models of the Le Tour. The first was "Le Tour Deluxe," the second one was "Le Tour Luxe" and the third model was called, "Lil Tiger," a departure from the first two models that had decidedly European names. According to Sheldon Brown, an online bicycle enthusiast, the Schwinn Le Tour line was manufactured by Panasonic for Schwinn.
Appeal
Although originally manufactured in the 1970s and 1980s, the Le Tour remains popular among bike enthusiasts and avid cyclers. Greg Knepp mentioned in a community newsletter in Columbus, Ohio, that "Le Tour was a milestone for Schwinn." It was made well, was comfortable to ride and was affordable. The bike attracted casual riders and those who were in need of a good, functional bike.
Modern Le Tour Models
Schwinn has reintroduced this beloved line of bikes as a higher-end bike. There are various models to choose from, ranging from women's bikes to men's fitness bikes. Different models target different consumers; Le Tour Legacy is a bike for fitness riders who focus on value, while Le Tour Elite is for those who focus on performance. Bike details and specifications for each bike, as well as some images, are listed on Schwinn.com.
Components
Most Le Tour bikes made today are made of alloy material, with a rigid Schwinn N'litened Aluminum frame. The make of the derailleurs and shifter is Shimano Tiagra or Shimano Sora, while the brakes are from Tektro R 538, with long reach calipers. The rims are Xero Shawla and the tires are Continental Ultra Sports, both in varying sizes depending on the model. All of this makes for a lightweight bike that is more affordable than other high-end bikes.
Buying a Le Tour
As of January 2011, the suggested manufacturer's retail price is $979. It is distributed through independent bike shops throughout the country, and Schwinn.com lists the shops near you when you enter your ZIP code. In Chicago, there are about 20 bike shops that sell the Le Tour. Buying a Le Tour is not just about buying any other bike; with it you buy a bike made of high-quality materials, and one that carries with it a long history.
References
Resources
Writer Bio
This article was written by a professional writer, copy edited and fact checked through a multi-point auditing system, in efforts to ensure our readers only receive the best information. To submit your questions or ideas, or to simply learn more, see our about us page: link below.