Vitamaster Exercise Bikes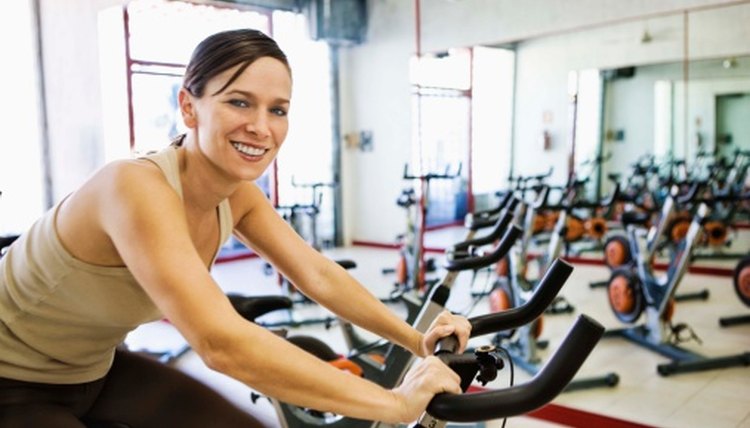 Vitamaster exercise bikes had a long run of sales in the 20th century. The fitness equipment was sold for home and gym use and had a selection of models, but the company was sold and the brand no longer exists. Even though Vitamaster bicycles are no longer manufactured, a few are still left for peddling if you look hard enough.
History
Roadmaster Industries Inc. is a U.S. company founded in Illinois in 1925. It began by making wheel disks for manufacturers of toys and steadily increased its product line, even surviving the Great Depression. In 1950, AMF Wheel Goods acquired Roadmaster and the company began to make exercise equipment under the Vitamaster label. In 1996, Roadmaster sold its bicycle division to Brunswick, which makes stationary bicycles under the LifeFitness label. It discontinued making Vitamaster exercise bikes.
Types
Vitamaster made exercise bikes for working out at home, but they were nothing like the fitness equipment of the 21st century. The Vitamaster ComfortAir was a simple, inexpensive model that didn't even offer an electronic display. The Vitamaster Airwaves is a rowing bike, allowing you to work out your arms and legs at the same time. The Vitamaster Slenderline was thin as the name describes, but it came with a speedometer, timer and adjustments for 10 speeds.
Availability
You can no longer purchase new Vitamaster exercise bikes from the manufacturer or in a fitness store, but there are still some available if you want one. Check on Internet auction sites and classifieds for used models. Some of these bikes are available for as little as $10.
Considerations
Before you purchase a Vitamaster exercise bike at an online site, consider that most of these bicycles have been used. It is impossible to tell the exact condition it is in until you get it. Also remember that because Vitamaster exercise bikes are no longer made by the manufacturer, you might have difficulty getting parts if something breaks. Question sellers before making your purchase to double-check that the bike is in good working order.
Warning
You should not use Vitamaster or any other exercise bike without discussing it with your doctor. Only your health care provider will know if you are healthy enough for this type of aerobic exercise and how much time you should spend using it. If your physician does feel using fitness equipment is appropriate for you, before you use it be sure to clean the unit when it arrives to make sure it is free of dust and germs.
References
Writer Bio
Marcia Frost is a writer covering travel, food, wine/spirits, and health. She writes for many on and offline publications, including The Daily Meal, Girls Getaway, Travelhoppers, and Princess Cruises.She also has a popular blog, Wine And SpiritsTravel. She has a Bachelor of Arts in journalism from Long Island University.