What Are the Fastest Road Bicycles?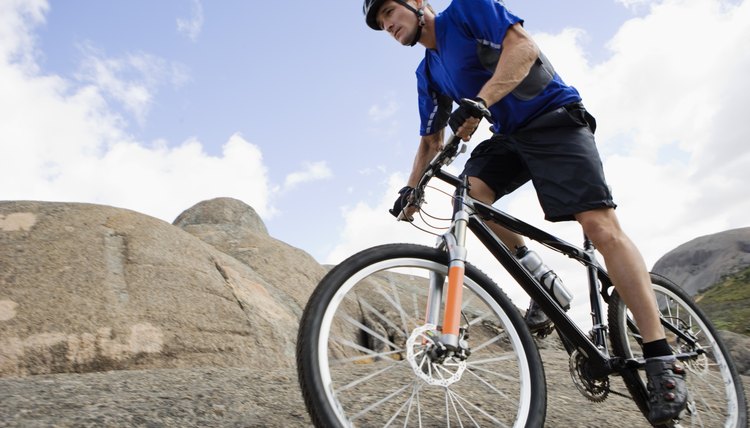 Road bikes are built for speed and, if you're a competitive cyclist, faster is better. According to the Cycling Mind website, the best way to improve your speed is to get on your bike and ride. As the power center of your bicycle, you need to train hard to win races, but it certainly won't hurt to have your feet on the pedals of one of these production speed-demons.
Cannondale Six Carbon 105
Cycling Plus Magazine named the Cannondale Six Carbon 105 its Bike of the Year for 2010. Testers called it "a sublime blend of speed and comfort." Weighing in at just more than 18 pounds, the Six Carbon 105 features a carbon frame, Shimano 105 components and Mavic Aksium Race wheels. As of early 2021, the Six Cannondale SuperSix Evo Carbon Disc costs about $3,100.
Felt F3X
According to reviewers at Pedals Monkey, some pros don't have bikes as nice as the Felt F3 SL. The F3 features a carbon frame including a carbon seatpost, a SRAM Red drivetrain and Mavic Ksyrium Equipe wheels. Testers at Cycling Plus Magazine said, "This bike flies." As of early 2021, the manufacturer's suggested retail price was about $3,499.
Bianchi C2C Infinito Athena
Weighing just 17.6 pounds, the Bianchi C2C Infinito Athena will be a blur to other cyclists. Bianchi has focused on creating a comfortable, pro-quality race bike that has proven itself with cycling greats such as Team RadioShack's Robbie Hunter. The C2C Infinito Athena features a full-carbon frame with a 356 g Bianchi fork, a Campagnolo Athena drivetrain and Fulcrum Racing 7 wheels. As of 2021, the C2C Infinito Athena sold for about $5,300.
Scott CR1 Pro
According to Cycling Weekly Magazine, the Scott CR1 Pro is stiffer than some other race bikes, but more than makes up for it in "racer-esque" handling, including speedy cornering. BikeRadar gives the 16.1-pound CR1 Pro 4-1/2 out of five stars, saying that it stays fast despite Scott's recent tweaks in the model to make it more comfortable. As of 2021, the carbon fiber CR1 Pro, which features Shimano Ultegra components and a Mavic Ksyrium Elite wheelset, retailed for around $1,400 (used).
References
Writer Bio
Michael Kerr is an award-winning freelance writer living in Portland, Oregon. He writes about business, health and travel for a number of publications including Portland Business Journal, Healthline Networks and USAToday, among others.