Sram X.5 vs. Shimano Deore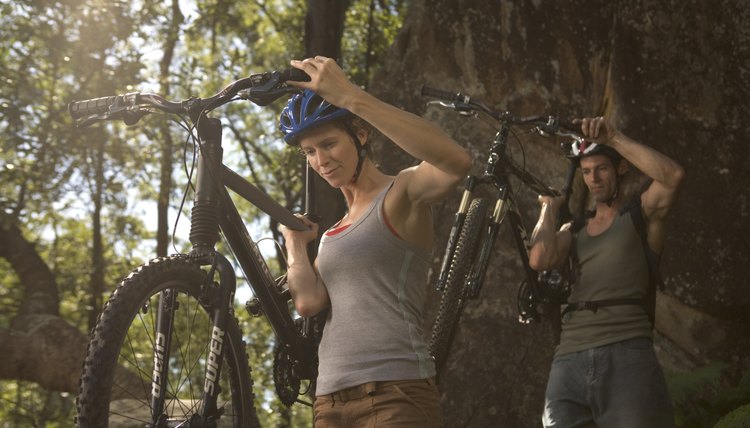 Mountain biking can be a fun activity that allows you to experience the outdoors. As you become a dedicated bicycle rider, you will want to make cost-effective decisions regarding your bicycle components. Understanding different brands and models of bicycle components can help you decide which pieces of bicycle equipment are right for you.
Shimano Deore Components
Shimano offers bicycle components for every style of bicycle. Deore components are designed for mountain bikes, but can also be used on some hybrid and general-purpose bicycles. These components are best utilized for cross-country or trail mountain biking on full- or front-suspension bicycles. The features found on Deore components are often handed down from Shimano's higher-end bicycle components to ensure precise and consistent shifting throughout your ride.
Deore Advantages
Deore components can offer you cost-effective bicycle parts that are engineered to last. Their sturdy materials are less expensive than carbon fiber components, but save you money, if you don't mind a few extras grams in weight. Deore offers you the option of two or three gear cranksets and an industry standard of ten speeds on your rear cassette. Deore's brake levers are ergonomically designed to be used by two fingers and you can easily adjust the reach to ensure comfort when braking. The Shimano Deore line is available in silver or black, and the components are compatible with other Shimano mountain bike components.
Sram X5 Components
Sram X5 components are engineered for off-road and mountain bike riders that want to take their riding more serious. They can be found on mountain or hybrid bikes, but are most often used for off-road riding. They offer a price-to-performance ratio that satisfies riders who are on a budget and are looking for racing-style performance. Sram X5 offers parts to complete your entire drivetrain, from the crank and cassette to shifters, brakes and derailleurs.
X5 Advantages
The X5 series offers nine and 10-speed cassettes and rear derailleurs, but many newer models of bicycles are opting for the 10 speed. The X5 crankset is available in two- or three-gear options for greater flexibility in customization. Each piece of Sram's drivetrain can be customized for your riding ability and style. Sram's X-Glide technology is found throughout its X5 components. X-Glide components are engineered for quicker, smoother shifts, which result in fewer missed shifts and dropped chains. The X5 series is inspired by its more expensive counterparts that Sram manufacturers, but will provide you with quality at a reasonable price point.
Writer Bio
Raymond DeWire has worked in the fitness and recreation industry as an aquatic supervisor and swimming coach. He is a former college swimmer and current competitive cyclist. He has a Bachelor's degree in sport and recreation management and a Master's degree in sport management and coaching leadership.