Cyclo Cross Bike vs. Mountain Bike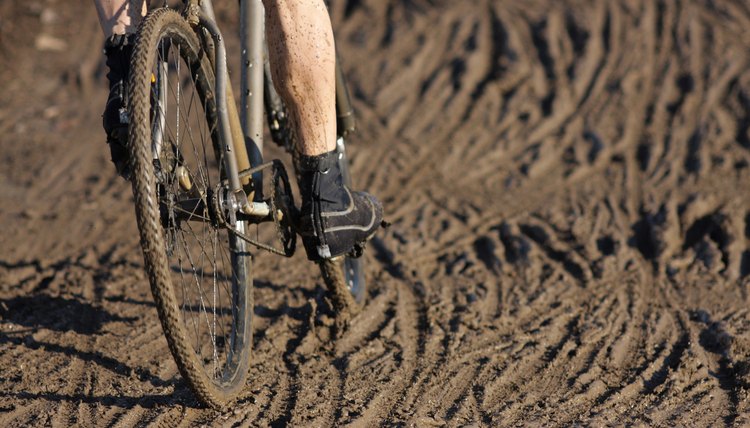 Purchasing a new bike is exciting, but can also be difficult when you are unsure of what type of bike you need. When comparing mountain bikes and cyclocross bikes, there are some similarities, yet very large differences between each. To help narrow your choices and decide which would be better for your biking plans, you need to consider what type of bike best suits what you plan to do.
Function
Cyclocross bikes, or cross bikes, are better suited for light off-roading, such as riding on gravel or racing in the grass or dirt in a cross race. According to Bike Shark Bike Company, cross bikes are more like road bikes with slight modifications. You can also think of cross bikes as a combination of road bikes and mountain bikes.
Mountain bikes are best suited for traveling over rough terrain. You may not plan to ride in mountains, but mountain bikes handle trails in parks and other outdoor areas better than cyclocross bikes. Mountain bikes can be used in cyclocross races, however, if you do that, the bar ends need to be removed. Also, depending on the level of cyclocross you race, you may also have to have drop bars.
Cross Bike and Mountain Bike Features
Both cross bikes and mountain bikes come with knobby tires, although slick tires can be mounted to the rims of each type of bike. However, that is where most of the similarities end.
Cross bikes have drop-bar handle bars and shifts similar to a road bike. This means the shifting could be integrated into the brakes or on the end of the drops. Cross bikes may also come with both on the curved part of the handle bars and the top of the handlebars. The drivetrains of cross bikes are typically that of a road bike's, although mountain bike parts, such as cassettes and rear derailleurs, can also be used depending on the individual needs of the rider. The brakes on a cyclocross bike are usually cantilever brakes, which are rarely found on road or mountain bikes. Also, cross bikes typically have a flat top tube or other design so the bike can be carried over the shoulder for cross races.
The tires of mountain bikes are typically wider than those of cross bikes and are usually knobbier, to better grip the biking surfaces. Many mountain bikes now have disc brakes, although some still use v-brakes. Suspension is available on the fork and for the rear in mountain bikes. Mountain bikes use flat handle bars and trigger or grip shifters. Lastly, another major difference is that mountain bikes come with lower gearing to navigate tricky terrain.
Deciding Between the Two Bikes
Deciding between a cross and mountain bike is easier when you take into consideration how and where you plan to ride the bike. For example, if you see yourself biking mountain bike trails, looking for rocky sections to bomb through, riding twisty and flowy dirt trails or tearing though rugged terrain to ride though, a mountain bike would hold up and handle better in those conditions. If you choose to compete, many mountain bike races are an hour or so long, although you can find races that last many hours or even multiple days.
A cyclocross bike may be a better choice if you prefer shorter and more intense races. Or maybe you want a bike that can comfortably take you on a long cross-country trek with mounts for racks. Maybe you are considering road racing but also enjoy light off-roading and need a bike that can work for both. In these situations, a cross bike may be the better choice.
Altering Your Bike for Versatility
Although each type of bike functions better for certain situations, this does not mean you cannot alter aspects of your bike for different tasks. For example, you can put slick tires on a cross bike and race the road. You can also do this with a mountain bike. A cross bike can also ride and compete quite well on some single track. A mountain bike can also be used on a cross-country tour or for cross racing.
Types
Once you decide which type of bike best suits your riding style and needs, there are still other considerations. Each style of bike comes in different types. For example, you may want to purchase a cyclocross bike that is light and has geometry designed solely for racing. Or you may want a bike that has components that are tough enough to hold up to riding gravel roads and putting in long miles. You might also seek out a cross bike designed for randonneuring.
Mountain bikes are available in many styles. Some are completely rigid, meaning they have no suspension. Some only have a suspension fork, called hardtail, while others are full suspension. Some mountain bikes have a lot of travel or are designed just for downhilling.
Over time, you will learn if you need a bike specifically designed for one application or if an all-around cross or mountain bike will perform in all your riding conditions.
References
Writer Bio
Jessica Kovarik has been writing nutrition, healthy and physical fitness articles for three years. She is a registered, licensed dietitian. Kovarik specializes in sports nutrition, exercise physiology and medical nutritional therapy for heart health, celiac disease and diabetes.