The Best Bikes for Men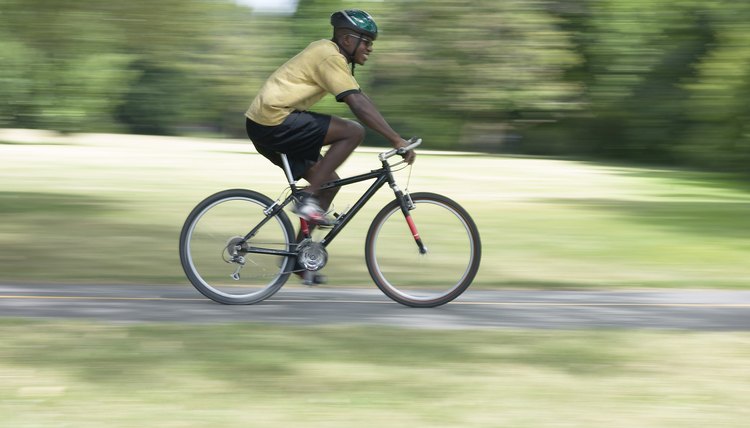 The best bikes for men will provide comfortable and fun rides. The types of bikes for men include road bikes, freestyle bikes, mountain bikes and hybrid bikes. A good bike will allow you to reach the handlebars without having to stretch out uncomfortably or sit in a complete upright position. When choosing a bike for men, look for versions that give you a few inches of clearance between the top tube bar and your crotch when you stand and straddle the bike. The saddle of the bike should be comfortable and the braking system should be simple to operate. Test the bike before you buy by visiting specialty bicycle shops.
LaPierre Spicy 516
This is the top pick and most highly rated mountain bike for men found on the Bike Radar website. The bike was praised for its lightweight feel and its stiff and controlled performance capabilities. The bike is recommended for enduro rides and other extreme mountain bike races. Specifications include alloy frame, Shimano XT crankset, Formula RX1 brakes and Fox Float shock absorbers.
Specialized S-Works Tarmac SL3 DA
This men's racing bicycle was named as a best buy in the 2011 version of "Bicycling" magazine's buyer's guide. The magazine lauded the bike as having the same key features as past bikes that have been used to win top bike races. The bike was designed with input from pro racers such as Fabian Cancellera and Andy Schleck. Features include a carbon frame and fork, 20 speed shifting, Tektro 955 brakes and a carbon seat post.
Cannondale Synapse Carbon
The Cannondale Synapse Carbon was lauded in the "Los Angeles Times" for being both an extremely comfortable and fast road bicycle. The shock absorption system keeps the ride smooth while still being able to gain speed on hilly terrains. Specifications include 20 speed drive train, carbon frame and fork, SRAM Apex shifter, Cannondale Stage saddle and Shimano wheels.
Bianchi Infinito
"Road Bike Action" magazine chose the Infinito as one of its top picks due to the bike's smooth and comfortable feel. The bike is also lightweight enough to climb hills without much difficulty. Sizes range from 50 to 61 cm and the bike can be customized through the Bianchi website. Additional features include carbon fork, carbon frame, Campagnolo Athena drivetrain, Fulcrum Racing 7 wheels and 11 speeds.
References
Writer Bio
Heather Topham Wood is a seasoned writer whose work has appeared in numerous publications, including USA Today, Gadgetell, Feel Rich and Step in Style. Heather is a published novelist with six Amazon bestsellers and a contract through Crescent Moon Press. She holds a bachelor's degree in English from TCNJ.