Ideas for Soccer Awards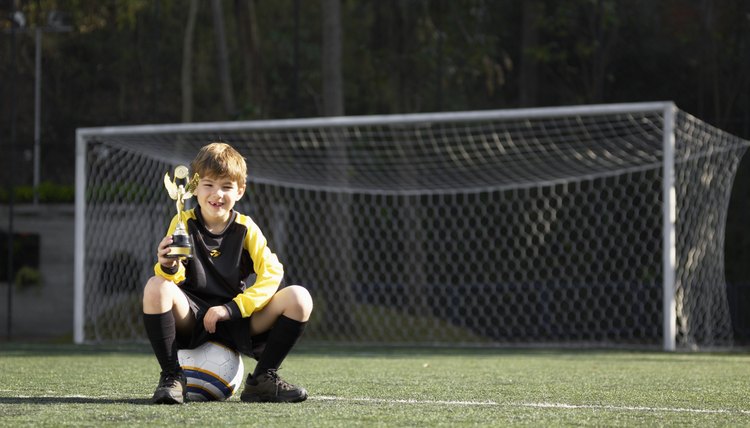 Soccer awards are not limited to a trophy that sits on a shelf and gathers dust. Nor are they limited to the top players. Soccer awards can give well-deserved recognition to a number of players who might not be the best but nonetheless try their best. Awards range from expensive, fancy medals to less expensive, smaller items players can use to improve their game or even their daily lives.
Types
Trophies, plaques, certificates and medals work for soccer awards, as do smaller items. Patches, key chains, medallions, small silver soccer-inspired charms and other jewelry can also work. Functional awards include new soccer balls, T-shirts, workout clothes, sweatbands, caps, notebooks, pens, stopwatches or other things players can use for practice or in their daily lives. A gilded or autographed soccer ball can work, as can a bronzed pair of soccer shoes. Many retailers customize trophies and other traditional awards, while printers and silk screen companies can print up custom T-shirts, caps, notebooks, pens and smaller items.
Reasons
Awards always go to top players, and they still can. Give awards to the best overall player, top offensive or defensive player, the player with the greatest number of goals or assists or for the best team spirit. Even players who are not tops, however, can receive awards for most improved game, flawless attendance, best listener at practice and overall teamwork. Awards can also motivate. Giving out small patches at practice every week for performance at the most recent game can keep players showing up with high enthusiasm and willingness to improve.
Humor
Humorous awards can strengthen the bond among teammates – as well as get a laugh. Crazy or silly awards can include player with the most mud on his face throughout the season, player who should have scored the most goals, best throw-ins and team clown. Humorous customized T-shirts or patches can work for silly awards, or you can go with resin trophies that have colorful, comical figurines wildly kicking a soccer ball with the trophy's small plaque explaining the award.
Considerations
Awards can include memorable outings, such as tickets to a pro soccer game or enrollment in a soccer camp. Such an experience can stay with the player long after a trophy is misplaced or packed away. Awards are best given with fanfare so the players receiving the them get recognition from their teammates, friends and family. A picnic, banquet or ceremony at the end of the season can work for the larger awards, while you can dole out smaller ones at team meetings or a set time before or after practice sessions.
References
Writer Bio
Ryn Gargulinski is a writer, artist and performer whose journalism career began in 1991. Credits include two illustrated books, "Bony Yoga" and "Rats Incredible." She holds a Master of Arts in English literature and folklore and a Bachelor of Fine Arts in creative writing with a French minor from Brooklyn College.