Compact Vs. Traditional Bicycle Frame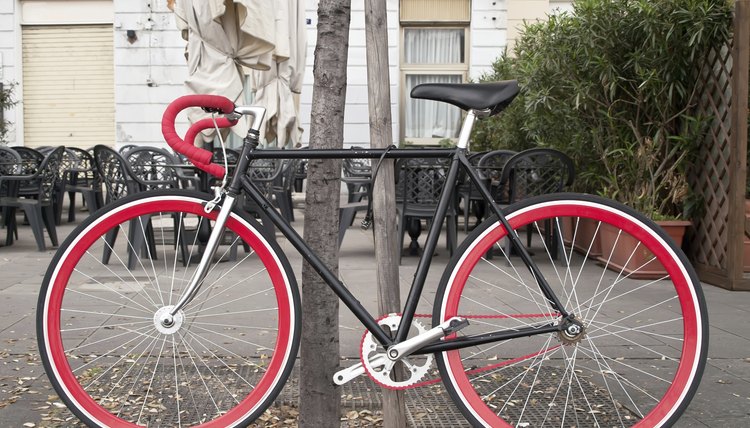 Cycling has many benefits, such as improving mood, burning calories and preventing chronic illnesses. Buying a new bicycle can be a daunting task, however, due to the vast range of frame styles and sizes. Road bicycles, which are intended for use on paved surfaces, come in either traditional or compact frame styles.
Traditional vs. Compact Frame Geometry
Traditional frames have a top tube that runs parallel to the ground, a style of construction that has remained popular since the early 1900s. In contrast, compact frames have a sloping top tube that is higher at the front of the bike. This contemporary form was influenced by the construction of BMX and mountain bikes. The main difference for consumers between the two styles is the way manufacturers size the frames.
Traditional Sizing
Traditional-style bike frames are sized in centimeters based on the length of the top tube. The right size for you is based on your physical proportions; with arm, leg, and torso length determining the correct fit. To choose the right size, he recommends measuring your actual inseam length in centimeters, a measurement that may be slightly longer than the inseam size of the pants you wear. For many people, the inseam length will be the correct frame size, although a person with a longer torso or arms might need a slightly larger frame.
Compact Sizing
Compared to the precise measurements needed to find the correct size for a traditional bicycle frame, compact frame sizing is much simpler. Most compact frames come in small, medium, large or extra-large sizes. With these more general frame-sizing categories, manufacturers are able to accommodate a larger range of consumers while manufacturing fewer sizes. On a compact frame, the height of the seat post is simply adjusted to customize the fit for a rider.
Performance
A compact frame is lighter than a traditional frame, due to the differences in their geometry, but a compact frame's weight is offset by the necessity for a longer seat post and steerer tube. In an interview with website Slowtwitch, aerodynamic expert John Cobb discusses his research comparing the aerodynamics of compact and traditional frames. Cobb found that, when tested in a wind tunnel without a rider, compact frames performed 10 percent better than traditional frames. When tested with a rider, however, Cobb found no aerodynamic advantage to compact frames.
References
Writer Bio
Meg Kramer is a Brooklyn-based musician and writer. She holds a B.A. in creative writing from the New School, as well as a diploma in audio engineering from the Institute for Audio Research.