The Best Shock Absorber Running Shoes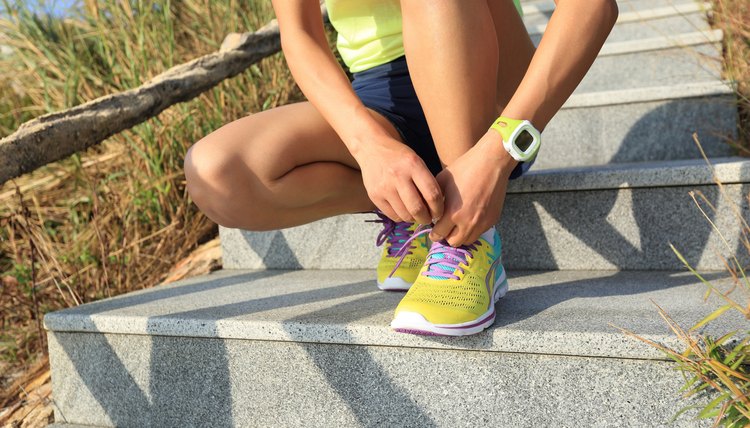 What to Look For
Whether you are an occasional jogger or a marathon runner, a key thing to look for in a running shoe is its ability to absorb the shock of your foot hitting the ground with the force of 2.5 times your body weight. This is particularly important if you are a heel-striker, as many runners are, and run on unforgiving surfaces such as concrete. Repeated pounding in poorly cushioned shoes can lead to injuries, including to your knee and back.
Common Pitfalls
Buying running shoes online without the benefit of trying them on first is a mistake made by even experienced runners. Fit and the correct shoe for your running style and foot type are important, and there is no way to correctly judge the shock absorbing ability of a pair of running shoes without trying them on and taking some practice running steps. Also, running shoes lose their cushioning after time and should be replaced after about 400 miles. Running in shoes long past their prime is risking injury.
Where to Buy
To find the best shock absorber running shoes, look to purchase from a specialty store that features running shoes and has a knowledgeable staff to assist you. Avoid buying shoes online unless you are buying another pair of shoes you have owned and are comfortable with. Sports Authority, Foot Locker and Finish Line are some of the retailers that have large inventories and stores across the country.
Cost
Asics, New Balance and Brooks are makers of running shoe models specifically designed for their shock absorbing abilities. The Asics Gel Nimbus 12 sells for $125, the New Balance model 758 is around $90 and the Brooks Glycerin 8 is approximately $130. All are prices as of 2010.
References
Resources
Writer Bio
Anthony Potenza began writing in 1985 as a publicity and staff writer for 20th Century-Fox Film Corp. He has written a number of articles online, focusing on topics such as food and wine, photography, fly fishing and personal finance. He holds a Bachelor of Arts in English from New York University.