NordicTrack Exp 1000 Treadmill Instructions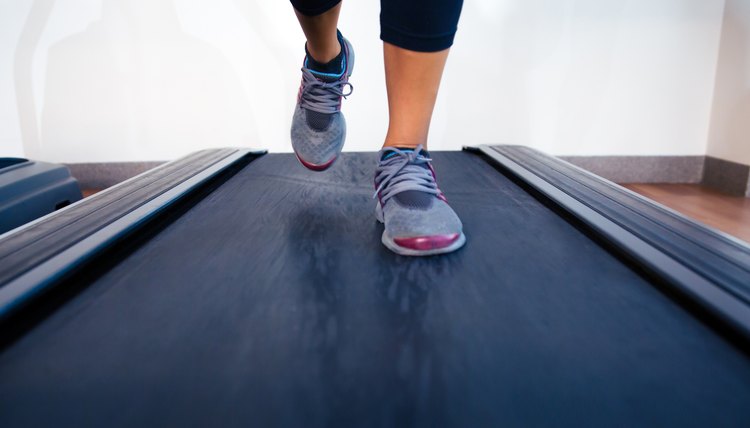 The NordicTrack EXP1000 treadmill has a 1.5 horsepower motor for your at-home workouts. It offers a top speed of 10 miles per hour with an incline adjustment up to 10 percent for various exercise routines. After your workout, the treadmill folds up for easy storage. The simple display makes it easy to operate.
First Things First
You need electricity to operate the NordicTrack, and a designated, grounded circuit of 15 or more amps and a surge protector are required. The treadmill should be positioned in an area that has 8 feet of clearance behind the belt. The maximum user weight on the treadmill is 250 pounds and only one user at a time should walk or run on the machine.
Safety and Manual Set-Up Second
After you plug in and position the treadmill for safety, turn the on/off switch to on. Stand on the deck with your feet straddling the belt. Attach the key clip to your waistband and then insert the safety key into the console. Press the weight button until your weight appears and select your weight. Press the age button until your age appears and select your age. Select manual mode for a workout in which you control the speed and incline of the treadmill. Press the start button and begin walking slowly. Press the speed button until you reach your desired pace. Adjust the incline by pressing the incline button.
One Out of Three
Your NordicTrack EXP1000 has three pre-set workout programs. To select one of these, insert the key and press the select program button. Choose between Mountain Trail, Gorge Trail or Canyon Run for your workout options. Hold the handrails and step onto the belt when it begins to move. Monitor your heart rate by placing your hands on the metal pieces on the handrails.
Four to Go
At the end of your workout, fold up your EXP1000 for storage. First, disconnect the safety key from the machine and the clip from your waist band. Next, turn off the treadmill and unplug it from the surge protector. Walk to the back of the treadmill and place your hands on the edges of the deck next to the belt. Pick up the deck and walk it closer to the console. Place your right hand in the center of the belt and use your left hand to insert the latch pin into the hole to secure the treadmill. Move to the front of the treadmill, hold onto the handrails, tip it toward you and roll it into storage.
References
Writer Bio
A mother of two and passionate fitness presenter, Lisa M. Wolfe had her first fitness article published in 2001. She is the author of six fitness books and holds an Associate of Arts in exercise science from Oakland Community College. When not writing, Wolfe is hula-hooping, kayaking, walking or cycling.