Information on the Proform J4 Treadmill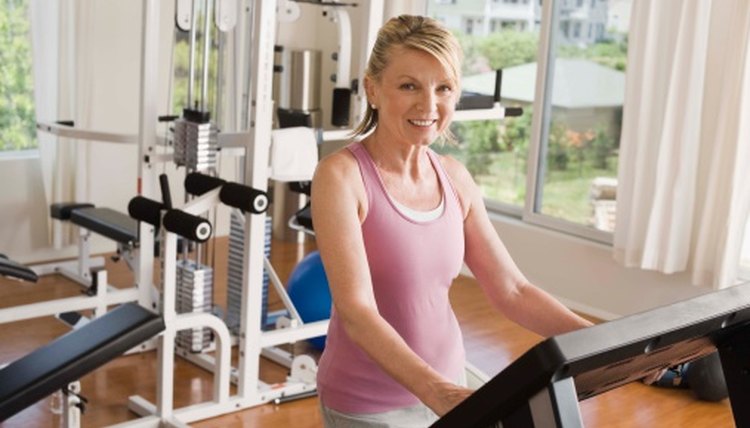 The J4 treadmill was manufactured in 1998. ProForm, a brand of Icon Health and Fitness, sold this model through Sears, Roebuck and Co. department stores. The J4 is a motorized treadmill that offers basic features and a simple interface. It is made for in-home use and has a space-saving design.
Design
The ProForm J4 treadmill is a compact treadmill for residential use. The unit folds up into an upright position for easy storage. ProForm warns that you should be able to lift 45 lbs. to raise, lower or move the treadmill safely. Once the J4 is locked in an upright position, you move it by rolling it on the front wheels. Although compact, the ProForm J4 has a maximum user capacity of 250 lbs.
Features
The ProForm J4 supports speeds from zero to 8 mph. To change the speed, you slide the speed control, located on the console, up or down. This model has an incline leg on the back of the machine. Before changing the incline, remove the safety key and unplug the power cord. Lift the back end of the treadmill and shake it gently to snap the incline leg into one of four positions: level, 3 percent, 5 percent or a 10 percent incline.
Console
The electronic console provides information about your workout. It requires three "AA" batteries. The screen is divided into three display windows. The top window shows your speed. The middle window displays the elapsed time and distance. The bottom window shows the approximate total calories and fat calories you have burned.
Maintenance
The J4 treadmill belt is coated with a high-performance lubricant at the factory. You should never apply silicone or any other lube to the walking belt. The only regular maintenance task ProForm suggests for the J4 is to adjust the tension of the walking belt as needed. If the belt slips, sticks or shifts when you are using the treadmill, you need to adjust it.
Availability
The ProForm J4 is not available as a new product. You may find used models listed online, in the classified ads or at garage sales.
References
Writer Bio
Based in Austin, Texas, Jolie Johnson has been in the fitness industry for over 12 years and has been writing fitness-related articles since 2008 for various websites. She received her Bachelor of Arts in English and philosophy from the University of Illinois.