What Is an Average Height for a Male Football Player?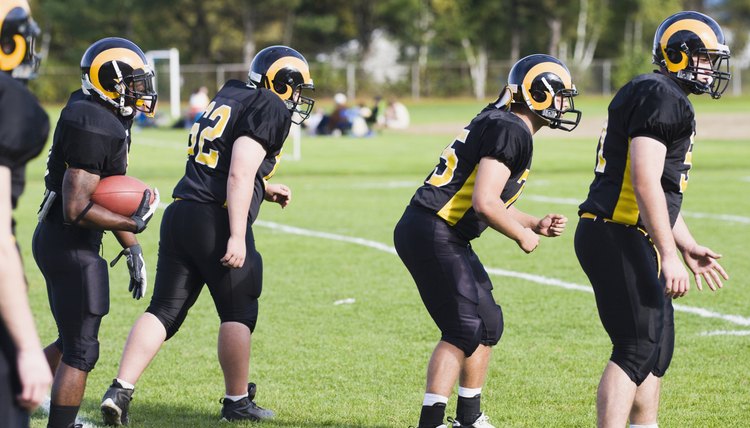 The average height of a male football player varies by position. Being taller or shorter can be either advantageous or disadvantageous, depending on the role. For some positions, the athlete's weight is more important than his height. However, these players are usually taller because they are able to carry the extra mass while still retaining their agility and athleticism. As you might expect, the tallest football players are found in the National Football League.
Quarterbacks
The average height of the 32 NFL starting quarterbacks as of 2023 was 6 feet 2.9 inches. For all NFL quarterbacks, the average height is 74.19 inches or about 6 feet 2.1 inches.
Taller quarterbacks are able to see over their offensive lines to better locate open receivers on the field. However, some shorter quarterbacks, like 5-foot 10 Kyler Murray of the Arizona Cardinals, have found success.
Running Backs, Wide Receivers, and Defensive Backs
Running backs, wide receivers, cornerbacks and safeties are the most athletic players on the field, and they range in height from 5 feet 9 inches to 6 feet 2 inches. They must cover lots of ground, both on offense and defense.
Taller running backs often are at a disadvantage due to a higher center of gravity. It is also much more difficult for them to run through the smaller openings. SportsRec analyzed 180 NFL running backs and the average height is 70.7 inches or 5 feet 10 inches.
Tall wide receivers, however, such as 6-foot-5-inch Hall of Famer Calvin Johnson, make bigger targets and may reach high for passes. SportsRec analyzed 393 NFL Wide Receivers and the average height of an NFL Wide Receiver is 72.6 inches or just more than 6 feet.
Tight Ends and Linebackers
Tight ends are thinner and faster than other linemen, and bigger and often slower than wide receivers. SportsRec analyzed more than 180 NFL Tight Ends and the average weight was 247.9 pounds and the average height of an NFL Tight End is 76.6 inches or about 6 feet 4 inches.
It is not uncommon to find tight ends who are 6 feet 6 inches tall. Marcedes Lewis of the Jacksonville Jaguars is one example.
Vernon Davis of the San Francisco 49ers is a shorter and faster tight end, standing just 6 feet 3 inches tall.
Linebackers, on the other hand, are similar in weight to tight ends but a bit shorter. For example, the San Diego Chargers' Larry English and the Houston Texans' Brian Cushing, measure 6 feet 2 inches and 6 feet 3 inches, respectively.
SportsRec reviewed the height and weight for 376 NFL Linebackers and the average height of the NFL Linebacker is 74.2 inches or about 6 feet 2 inches.
Defensive and Offensive Linemen
Linemen are the tallest, heaviest and strongest players on the field. The NFL Offensive Tackle are the tallest with an average of 77.85 inches. We reviewed 468 NFL Offensive and Defensive Lineman. Offensive Lineman are taller averaging between 75.7 inches for a Center, 76.3 inches for an Offensive Guard and the tallest, the NFL Offensive Tackle.
The tallest players in the NFL are all 6 feet 9 inch Offensive Tackles.s
NFL Defensive Linemen are on average one inch smaller than NFL Offensive Linemen. NFL Defensive Lineman have an average height of 75.1 inches or 6 feet 3 inches.
While body weight and strength are more important than height for linemen, retaining the necessary mobility to effectively play these positions would be difficult at a short stature while weighing over 300 pounds, as most linemen do.
College
The height of college football players is comparable to their professional counterparts because the vast majority of males finish growing by the time they reach 21 years old.
For example, the average height of the 2013 USC quarterbacks was 6 feet 3 inches. The average height among USC's running backs, cornerbacks, safeties and wide receivers was just over 5 feet 11 inches. The average heights of USC's tight ends and linebackers were 6 feet 4 inches and 6 feet 1 inch, respectively, while their offensive and defensive linemen had average heights of 6 feet 5 inches and 6 feet 2 inches, respectfully.
High School
Football players at the high school level normally vary greatly in height. Many have not finished growing, and age differences of one to two years between players are more telling of their height difference than for older football players. Only 10 players on Anaheim (California) High School's 49-man football roster in 2013 were 6 feet tall or taller.
References
Writer Bio
Michael Tonkonogy is a certified personal trainer from the International Sports Science Association who writes on health and fitness. He earned a Bachelor of Arts in psychology from the University of California, Berkeley. He has previous experience as a sportswriter, writing primarily about the Pac-12 conference during his senior year of college.