What to Wear for the Temperature in Cycling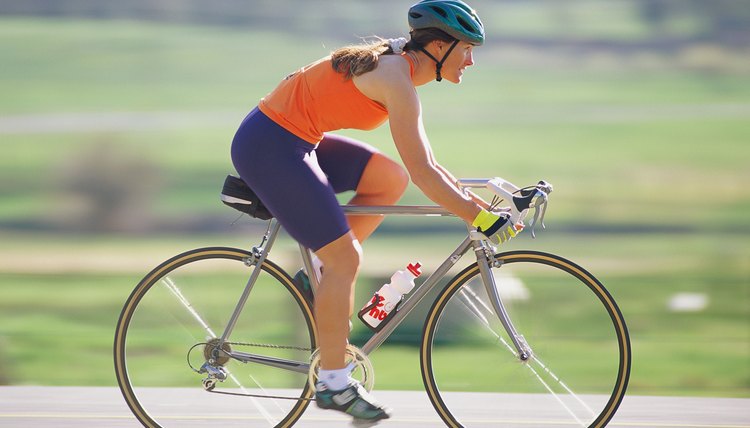 For many cyclists, even those who live in colder climates, cycling is a year-round sport. The difference between a horrible ride and a great one often is determined by how you dress. As a rule of thumb, when cycling in colder weather, always dress so that you are slightly cool during your warmup. Cycling generates a good amount of heat, so you don't want to pack on too many layers or you'll swelter. A few base layers and arm and leg warmers are the key to staying just right as the temperature fluctuates.
Below Freezing
It's still possible to ride when the temperature is below freezing, though you do have to be aware that ice may form on road surfaces. Start with a long sleeve base layer covered by a long sleeve jersey. This helps wick moisture away from the body. Follow this up with a lightweight jacket. On windy days, you may want a jacket that's windproof yet still light. Wear long tights over your cycling shorts. For very cold or windy days, reach for windproof tights. Keep warm with thermal full-finger gloves, a fleece beenie under your helmet and medium-weight wool socks. If your feet are still cold or it's a windy day, consider wearing a pair of neoprene booties over your cycling shoes.
Above freezing
On days when the sun is out and it's in the upper 30s or 40s, you can dress in lighter clothing. If there is a high windchill, however, play it safe and wear warm clothes. Begin with a short-sleeve or sleeveless base layer. This protects you from wind and keeps your core warm. Layer on a jersey and fleece arm warmers. Top them off with a windproof vest to further protect your core from the cold. Wear your cycling shorts and leg warmers. Finish up with a helmet, medium-weight socks and full-finger gloves.
Mild Spring Days
When the temperatures are in the 50s and 60s, it's important not to dress too warmly, but you should still protect your knees from the elements by keeping them covered. Wear a sleeveless base layer and a jersey. For cooler starts, wear arm warmers or legwarmers. These are great because you can slide the warmers down as you pedal or remove them entirely. Wear cycling shorts, light socks, fingerless gloves and a helmet. If there's a chance of rain, pack a light rain jacket.
Hot Summer Rides
Many cycling clothes are designed to wick sweat away in the searing summer heat, and some are even designed with a certain SPF to protect your skin from the sun. In hot weather, wear your cycling shorts and a jersey or sleeveless jersey. Wear your helmet as well as half-finger gloves and light socks. Reach for lighter colors, though some companies do make special black fabrics that are just as cool as white.
Writer Bio
A professional writer since 2004, Abby Roberts holds a Bachelor of Arts in writing and has worked as a magazine editor, a staff writer and as a freelance writer for "Muscle and Fitness Hers" magazine. Roberts also produces a blog for female cyclists. She has experience working with cyclists in different facets of training and performance enhancement.