How to Make a Bio Sheet for a Soccer Player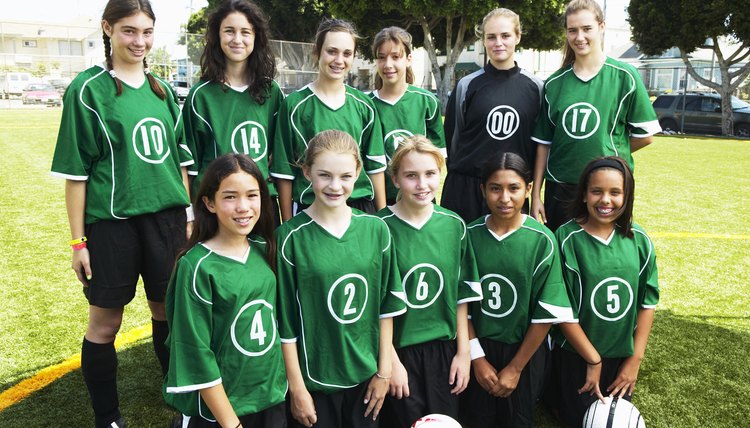 Even before a young soccer player applies for her first job, she may already have experience writing up a resume designed to catch the attention of a future boss. Prospective college athletes often create bio sheets -- athletic profiles that serve as de facto resumes – to introduce themselves to college coaches and kick-start the recruiting process. While they can and should be customized for specific colleges, each should contain basic information that highlights an athlete's skills, accomplishments and attributes.
When to Start
College coaches aren't allowed to initiate personal contact until Sept. 1 of your junior year -- though they can send general information, like invitations to the school soccer camp or a questionnaire to fill out and return. These indicate at least casual interest, and no rules prevent you from being proactive and initiating contact with coaches. You're allowed to reach coaches electronically, by mail or by phone at any time. By your sophomore year, you should have a profile ready to send.
Begin With Basics
The top of your bio sheet should include information that identifies you as an individual and as a soccer player. Include your name, contact information – address, e-mail, phone number and instant messaging account -- and who your parents are. Include your basic soccer information as well – such as what position you play currently, and what you've played in the past, which club teams you've played for and whom you're currently with. Add a head shot as well if you like.
Hit the Highlights
Once those basics have been taken care of, follow on your bio sheet by listing your strongest information. That could be stats from your school team, or club team; all-conference or all-tournament honors; or whatever is going to catch your target's eye. Customize this section for individual schools when applicable. A coach losing his top two goal scorers may be impressed by your seven goals in a five-game holiday tournament, while one who already has strong talent at your position may focus more on your versatility, or academic record. The more personalized this is for a particular program, the better.
Academic Prowess
College soccer coaches value academics as well as athletic prowess. A coach has to be convinced that a prospect will be able to handle the workload in college, and it's also helpful to indicate where your interests in the classroom dovetail with the school's academic offerings. Detail where you go to school; what your expected graduation date is; and information on your GPA, class rank and standardized test scores. Include any academic honors you've received as well, and any honors or Advanced Placement classes you're taking.
Coaching Information
Include information on your coaches, both at the school and club level. If your soccer club is more prominent than your prep squad, place that coach's data first. Display her contact information and how long you've been playing for that team. Repeat for each other coach you play for. It's ideal to include a comment from a coach -- particularly a coach at the most notable program you play for -- that depicts your skills and abilities. Blurbs or quotes can be included here, with longer recommendations appended as needed. Additional references that can attest to your athletic prowess, academic achievements or general character may be included as well.
Link to Video
Seeing is believing, and a bio sheet should offer coaches a way to view what you can do. It's fine to send DVDs of highlight footage under separate cover, but the bio sheet should include links to the top footage that showcases you at your best. This doesn't require a fancy website -- placing footage on YouTube is both cost-effective and an easy way for coaches to find you when they're interested in a viewing. Just be sure to include identifying information – such as "I'm No. 8 in the blue jersey, playing sweeper at the state tournament."
Update Often
Send revised copies of your bio whenever you have something that needs updating. It's a fine line between too much contact and not enough, but an e-mail every 10 days or so indicates sincere interest without being overbearing. If nothing else, you'll want to update your upcoming schedule, so the coach knows where and when he can see you. Though coaches can't respond to your e-mailed bio, you'll know you're in great shape if the targeted coach or a staff member attends one of your games or showcase events.