How Are Men's Cycling Shorts Supposed to Fit?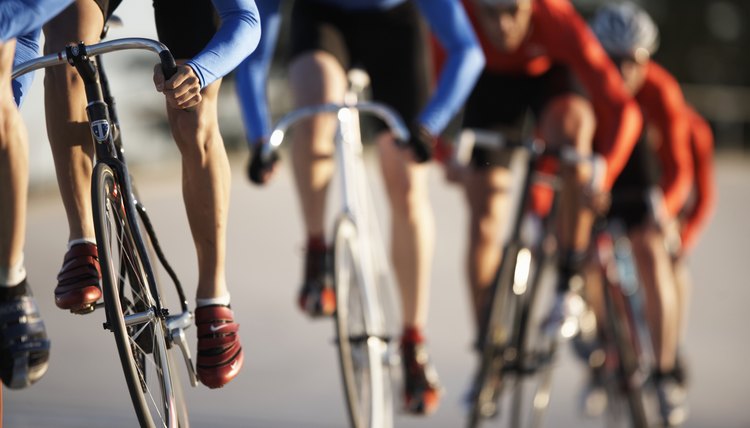 If you're a beginning cyclist, a couple of long bike rides in your street clothes can make padded bike shorts seem pretty enticing. Cycling shorts are designed to provide additional comfort and prevent heat rash, chafing and saddle sores so you can focus on your ride, rather than your sore behind. But as cycling grows in popularity, the choices increase. You might find yourself standing in the sporting goods store, confused about cycling short fit and style. The type of cyclist you are will dictate which shorts are best for you.
What's Special
Bike shorts are tighter than ordinary shorts and made from stretchier materials to allow freedom of movement. The fabrics wick moisture to keep your skin dry. Padded crotch liners absorb the impact of bumps in the road. Bike shorts are generally worn without underwear. If you don't want anyone seeing you in such tight shorts, you can wear your bike shorts as underwear and pull a pair of baggy shorts over them.
Chamois Pads
Back in the 1970s, chamois leather pads were sewn into the crotch of bike shorts to cushion and absorb impact. Newer synthetic materials are now used, but the name, "chamois" stuck. Today's chamois pads come in several thicknesses and a variety of shapes. Both men's and women's cycling shorts contain chamois pads, although men's are tailored to protect the male anatomy. New riders and those who are cycling long distances might appreciate the cushioning of a thicker foam or gel pad. Experienced cyclists might prefer the barely-there feel of a thin pad. Triathlon competitors favor thinner pads, as they run, ride and swim in the same pair of shorts. Chamois pads are engineered to stay dry, and are sometimes treated with antibacterial solution to prevent bacteria. The pads are machine washable. You might want to slather some lubricant or anti-chafe cream on your chamois for smoother riding.
Road Bike Shorts
Shorts made for road biking usually feature panel construction with six or eight panels designed to give you a comfortable fit. These shorts are usually made of stretchy spandex and are so formfitting that the chamois pad is easily visible. This tight fit keeps your shorts in place, which helps prevent chafing. It also cuts down on wind resistance and improves the efficiency of your pedaling. Make sure the legs of your shorts are long enough so that if they ride up a bit you won't risk overexposure. You want them to fit snugly, but not to feel like you're losing circulation to your lower legs. You can choose from a variety of different fabric weights depending on your personal preference. Bib shorts look like bike short overalls, with straps coming up over your shoulders. This avoids elastic around the waist for folks who don't like that feel. If you pull a jersey over your bib shorts, it looks like you're wearing regular road bike shorts.
Mountain Bike Shorts
Also called baggies, mountain bike shorts have a looser fit. These incorporate an inner bike short complete with padded liner and an outer layer that looks more like regular shorts, including pockets. Instead of elastic, the waistband may button or snap closed. The inner layer of your mountain bike shorts should feel fairly tight, but the outer layer should not. There are also mountain-bike specific bib shorts. These shorts are available with a high-end chamois pad and a lightweight, baggy shell.
References
Resources
Writer Bio
Teresa Bergen writes about fitness, health, yoga, travel and the arts. She is the author of "Vegetarian Asia Travel Guide" and has written hundreds of articles for publications online and off. Bergen also teaches yoga, spinning and group fitness classes, and is an ACE-certified personal trainer.