Benefits for Handstand Pushups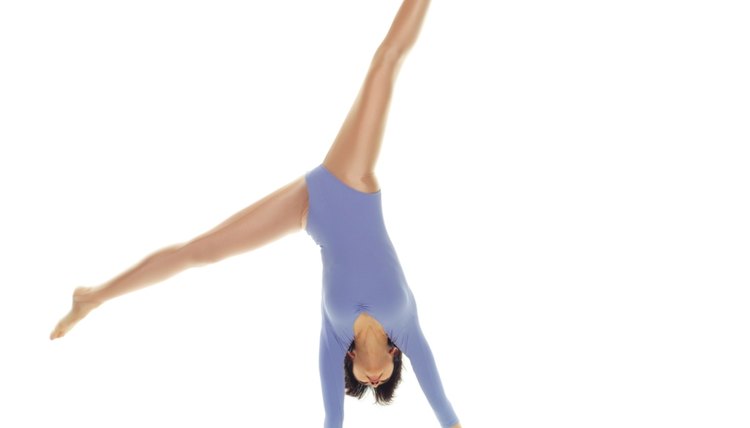 If you have mastered regular pushups but want to continue working your muscles using bodyweight exercises, consider adding handstand pushups to your workout routine. Performed against a wall for balance or freestanding if you are more proficient, handstand pushups are more demanding than regular pushups and also offer several other additional benefits.
Beef Up Your Strength
Supporting your entire bodyweight on your hands means that your muscles will have to work much harder in the handstand pushup than the regular pushup. Challenging your muscles with a greater load will increase your strength, which is the ability of a muscle or muscle group to generate maximal force.
Improve Your Balance
Regular pushups involve four-points of balance: two hands and two feet. Supporting your weight on just your hands demands and develops better balance. Balance keeps your center of mass over your base of support and can enhance sports performance and the execution of daily tasks.
Strengthen Your Core
Keeping your body vertical when performing handstand pushups provides your core muscles with a good workout. Your core is the collective term used to describe your abdominal, waist and lower back muscles. Strengthening these muscles can help prevent back injury as they are responsible for supporting your spine and maintaining optimal lumbar alignment.
References
Zach Even-esh: Master the Handstand Push Up and Build Healthy, Powerful Shoulders & Serious Upper Body Strength
Miniato MA, Anand P, Varacallo M. Anatomy, Shoulder and Upper Limb, Shoulder. [Updated 2020 Jul 31]. In: StatPearls [Internet]. Treasure Island (FL): StatPearls Publishing; 2020 Jan-. Available from:
The Handstand Push-Up. Demos, Scaling, Progressions, & Warmup. WODWell; 2019.
Huxel Bliven KC, Anderson BE. Core stability training for injury prevention. Sports Health. 2013 Nov;5(6):514-22. doi: 10.1177/1941738113481200. PMID: 24427426; PMCID: PMC3806175.
Akhtar MW, Karimi H, Gilani SA. Effectiveness of core stabilization exercises and routine exercise therapy in management of pain in chronic non-specific low back pain: A randomized controlled clinical trial. Pak J Med Sci. 2017;33(4):1002-1006. doi:10.12669/pjms.334.12664
Han J, Waddington G, Adams R, Anson J, Liu Y. Assessing proprioception: A critical review of methods. J Sport Health Sci. 2016;5(1):80-90. doi:10.1016/j.jshs.2014.10.004
McGowan CJ, Pyne DB, Thompson KG, Rattray B. Warm-Up Strategies for Sport and Exercise: Mechanisms and Applications. Sports Med. 2015;45(11):1523-1546. doi:10.1007/s40279-015-0376-x
CrossFit Level One Training Guide, Second Edition. CrossFit; 2019.
Writer Bio
Patrick Dale is an experienced writer who has written for a plethora of international publications. A lecturer and trainer of trainers, he is a contributor to "Ultra-FIT" magazine and has been involved in fitness for more than 22 years. He authored the books "Military Fitness", "Live Long, Live Strong" and "No Gym? No Problem!" and served in the Royal Marines for five years.