Shoulder Compound Exercises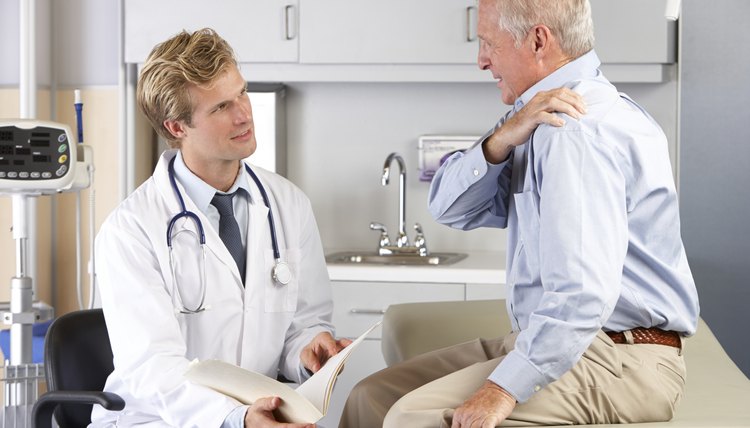 The human body has numerous muscle complexes. Among them are the thigh, calf, chest, upper-arm and shoulder. The shoulder in particular is made up of small and moderately sized muscles. Because there are many muscles in the shoulder, compound exercises, or exercises that involve multiple joints, are a good way to incorporate several muscles simultaneously.
Overhead Press
The overhead press is a broad name given to any exercise that involves pressing a barbell or dumbbell above the head. Examples of this movement include the dumbbell and barbell military press, the dumbbell or barbell push press and the clean, jerk and snatch. The primary muscles worked in these exercises include the deltoids, the trapezius, several small upper-back muscles and the triceps. One important thing to remember about overhead pressing is the risk of injury. Because the shoulder has so much mobility, it is inherently unstable. Increase intensity and frequency at a slow rate to ensure safety.
Rows
Rows are exercises that mimic a rowing motion. Examples of rows are pullups, chinups, low cable rows, lat pulldowns, chest-supported rows and one-arm dumbbell rows. Rowing motions work muscles of the back, arms and shoulders including the biceps, brachioradialis, latissimus dorsi, posterior deltoid, trapezius and rhomboids. Because most rowing motions are stabilized, the risk of injury is nearly nonexistent when compared with overhead pressing.
Bench Press
Perhaps one of the most common exercises in the gym, the bench press is both a shoulder exercise and a great way to measure overall upper-body strength. It can be done in several variations, including with dumbbells or resistance bands and in a decline, flat or incline position. The incline bench press puts the most stress on the shoulder, as it is similar to the overhead press. The primary muscles worked in the bench press are the pectorals, the anterior deltoids and the triceps.
References
Writer Bio
Andy Chasse is a certified personal trainer who began writing professionally in 2009. He works full time as a freelance writer, specializing in areas of fitness and nutrition. His writing has appeared online at BodyBuilding.com, Muscle and Strength and Elite FTS. Chasse is pursuing a Bachelor of Science in kinesiology from Sam Houston State University.