The Best Exercise to Tone Calves & Thighs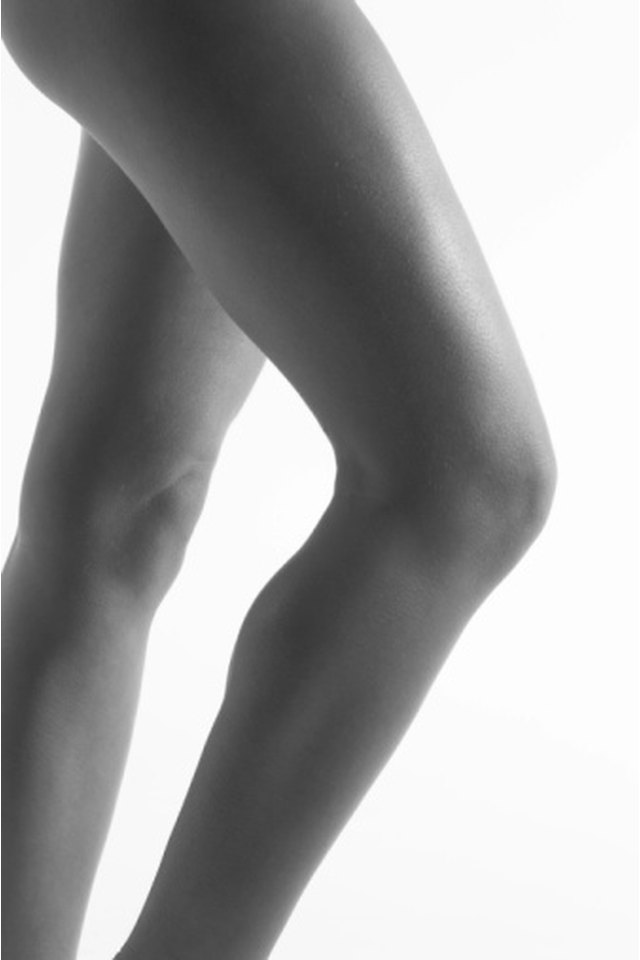 If you want to have shapely calves and thighs, strength training is a must. According to the Centers for Disease Control and Prevention, muscle-strengthening exercises can be done at least two times per week. They suggest doing eight to 12 repetitions and two or three sets of each exercise with enough weight so the last repetition of each set is hard to finish. With consistency and hard work, your legs can become your best accessories.
Basic Calf Raises
The largest muscle in your calf is your gastrocnemius muscle, running from your thigh bone to your Achilles tendon. To tone and strengthen this muscle, you will need an exercise step. Place the step against a wall. Stand with the balls of your feet on the far edge of the step and place your hands on the wall for balance. Rise up as high as you can onto the balls of your feet, then slowly lower your heels down to the height of the step. In order to increase the difficulty level of this exercise, lower your heels down further than the top of your step or wear a weighted vest during this exercise.
Bent-Knee Calf Raises
The other muscle in your calf is your soleus muscle; it lies underneath your gastrocnemius muscle and connects your tibia in your lower leg to your Achilles tendon. To target this muscle, do a variation of the above calf raise. Use the same starting position, place your step against the wall, stand with the balls of your feet on the edge of the step and your hands on the wall for balance. However, in this exercise, lift one foot up to work just one leg at a time, and bend the knee of your supporting leg to activate your soleus muscle. Again rise up as far as you can and lower down to the height of the step or below. Alternate legs after each set of bent-knee calf raises.
Must-Do Squat Exercise
The muscles in your thigh are your quadriceps on the front and your hamstrings on the back. A squat with your own body weight or added resistance from free weights is an effective way to train both of these muscles. Start with your feet hip-width apart and your toes pointing straight forward. Thrust your rear end back into a squat. Keep your shoulders over your knees and your knees over your toes as you squat until your thighs are parallel to the ground. Slowly straighten back up to the starting position.
Lunge Those Legs
Another effective exercise for training your quadriceps and hamstrings in a lunge. Again you can use the weight of your own body or add resistance with free weights when doing a lunge. Stand with your feet together and any weights you are using in your hands as if you were carrying suitcases. Take a big step forward, lunging until your back knee is just a few inches off the ground. Keep your shoulders, hips and back knee in a straight line as you lunge. Push off your front foot to bring your feet together again. Repeat on the other side. One lunge on each side completes one repetition of this exercise.
References
Writer Bio
Based in Wisconsin farm country, Jami Kastner has been writing professionally since 2009 and has had many articles published online. Kastner uses her experience as a former teacher, coach and fitness instructor as a starting point for her writing. She has a Bachelor of Arts degree in secondary education from Trinity International University.