Review of Gym Quality Treadmills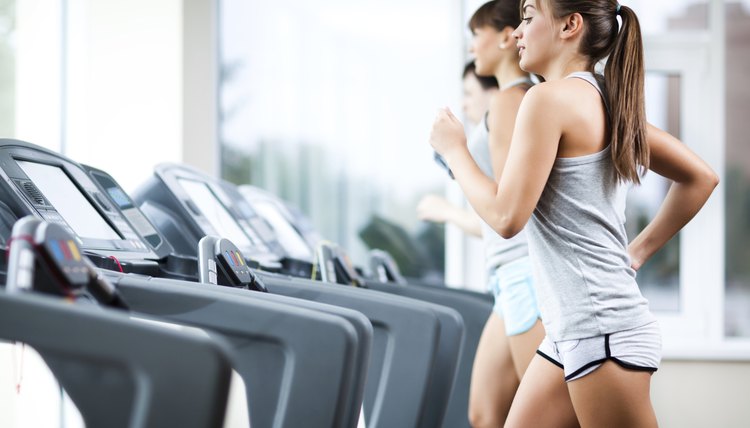 What to Look For
Gym-quality treadmills differ from those designed for home use because they are specially designed to be more durable since many people use them on any given day. Look for a treadmill that has a frame made of high-quality alloy steel or aluminum to make sure it can withstand lots of wear and tear. The type of motor a gym quality treadmill uses also differs from home-use equipment. A gym-quality treadmill should have a continuous duty rated monitor, which means it has a longer life span, according to Treadmill Adviser.
Common Pitfalls
Gym-quality treadmills may look similar to home-use versions but will be significantly more expensive. Not all gym-quality treadmills come with a warranty package, so it's best to check what type of warranty, if any, comes with the equipment since it will see a lot of everyday wear and tear.
Where to Buy
Gym-quality treadmills are primarily available through fitness wholesalers and retailers, and can also be purchased directly from the manufacturer. Warranties on the equipment are only valid when purchased from an authorized retailer, so make sure the retail outlet you choose to purchase the treadmill from is authorized.
Cost
A typical range for a gym-quality treadmill can be anywhere from $3,000 to $10,000 and up, depending on the specific brand and model. This cost is much more than for a home-use treadmill.
Comparison Shopping
There are many great brands that are known for offering gym-quality treadmills. Precor, for example, is a well-known brand and was named a top 10 treadmill by Runner's World magazine. LifeFitness is a treadmill brand that is often found in many high-end health clubs and fitness centers and has a reputation for manufacturing quality treadmills. Nautilus features technologically-advanced electronics and has a sleek design.
Writer Bio
Leslie Madison began writing professionally over five years ago, specializing in beauty, health, nutrition and skin care topics. She regularly writes beauty, health and lifestyle stories for both print and online magazines including "Long Island Bride and Groom" and Teen Scene. Madison has a Bachelor of Arts in communication from Rutgers University.