Where Can I Rent a Treadmill?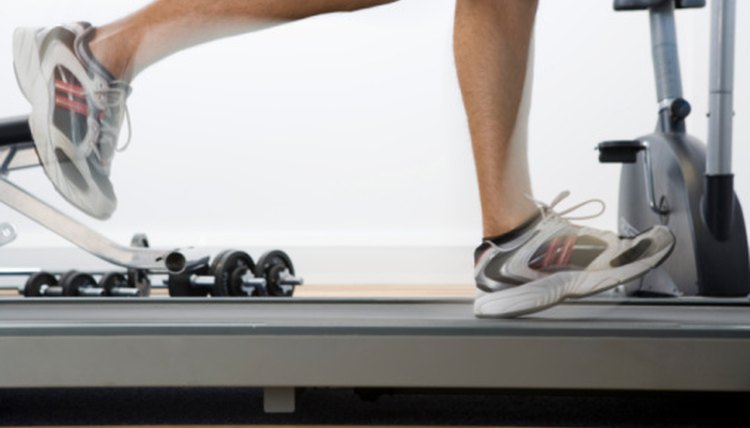 Renting a treadmill may not be a service available in your area. Few online or brick and mortar retailers are in the treadmill rental business as of November 2010. Those that do rent treadmills offer the service within a specific and limited geographical area. Be forewarned that you are entering into a contractual agreement when you rent a treadmill, so be sure you read the fine print before signing.
Rent-To-Own
Expect to rent your treadmill for a minimum of four to six months, or as stated in your contract. If you want to cancel your contract before the minimum rental period ends, then you may be charged an additional cancellation fee. After renting for one year to 15 months from companies, such as Rent A Gym and Wright Exercise Equipment, you will own the treadmill.
Prices
Pricing varies on type of treadmill and company you rent from. As of November 2010, Rent A Gym charges $95 per month to rent a ProForm 590T treadmill and does not require a credit check. Wright Equipment quoted a price of $60 per month to rent a used Horizon treadmill, and requires two months in advance payment as well as a credit check.
Brand Selection
Expect a limited selection of treadmill brands when shopping to rent a treadmill. Some companies only rent used equipment, while others rent new, commerical-grade treadmills. Aerobic Fitness Rental, for example, offers four treadmills to choose from: Milestone 1200, Ironman 320T, and Healthtrainer 501 and 801. If possible, find a store or gym to try out that brand treadmill before renting. Make sure it meets your requirements for your fitness needs.
Online or In-Store
Before you determine where to rent your treadmill, online or in-store, ask if it's possible to see the model and test it out before renting. Some online stores also have a retail store and actually prefer you test out the treadmill before you decide to rent. Rental companies with a physical location may offer you more reassurance as an avenue of recourse should a problem with the treadmill occur.
Considerations
When deciding where to rent your treadmill you should ask about the warranty and maintenance on the treadmill, delivery or pickup charges, whether there are any wear and tear charges, and cancellation fees. Make sure the treadmill can support your weight. If you decide that you want to purchase your treadmill before the rental period ends when you actually will own the treadmill, you may be able to negotiate the purchase price with the company.
References
Writer Bio
A fitness professional since 1997, Raina Casarez is an experienced group fitness instructor teaching a variety of formats. As a member of The Exergaming Network (TEN,) she specializes in the burgeoning field of Wii fitness. Casarez has received certifications from the Aerobics and Fitness Association of America (AFAA), SCW Fitness, and completed Georgia State University's tai chi program.