Schwinn Traverse Vs. Schwinn Sidewinder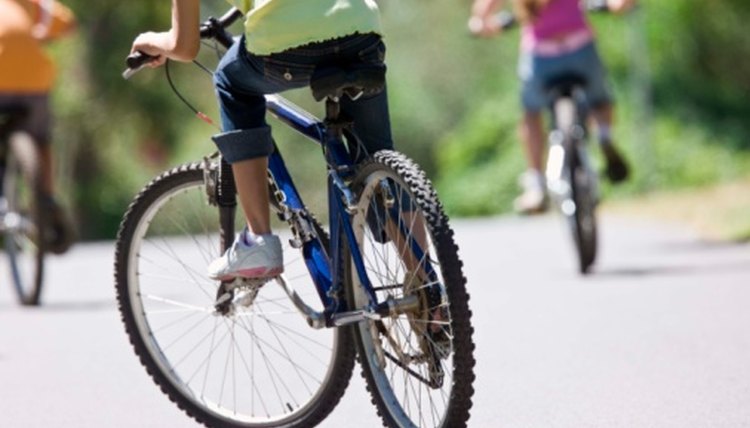 Since 1895, Schwinn has been making bikes. Schwinn produces bikes for on-road, off-road, casual, touring, work and tandem rides. You can choose between bikes that have one function or a hybrid bike that allows you to use it on multiple terrains. Depending on your needs, whether they are casual, exercise, or racing related, Schwinn's Traverse or Sidewinder styles may be affordable options.
Type of Rider
The type of rider you are is the first thing to consider when choosing a bicycle. You may enjoy a casual ride through the park on the weekend, or monthly competitive races. If you prefer to ride off-road, both the Traverse and Sidewinder have that capability. If you also like to cycle the open road, the Sidewinder gives you that option.
Construction
Both the Sidewinder and Traverse are made with a steel frame and aluminum alloy suspension. The alloy suspension absorbs shock from the terrain, providing a smoother ride. The materials are also less prone to rust, so you can expect your bike to last. The Sidewinder weighs approximately 42 pounds. The Traverse is just under 42 pounds.
Gears and Brakes
Both bikes come with Sram grip shifters that make for quick and easy changes between gears. You will have smooth pedaling throughout your ride and the front and rear alloy brake pulls ensure that you stop when necessary.
Affordability
The Schwinn Traverse retails for about $179, as of November 2010. The Sidewinder costs about $129. You may pay a different amount if you purchase online, from an independent bike store or from a mass retailer. For online purchases, expect to pay for shipping.
Warranty
Schwinn bikes, when purchased from independent bike sellers, come with a lifetime warranty on the frame if you are the original owner. You will also receive a one-year warranty on normal-wear parts such as grips, brake pads and saddle coverings.
References
Writer Bio
A mother of two and passionate fitness presenter, Lisa M. Wolfe had her first fitness article published in 2001. She is the author of six fitness books and holds an Associate of Arts in exercise science from Oakland Community College. When not writing, Wolfe is hula-hooping, kayaking, walking or cycling.