Athletic Training & Occupational Therapy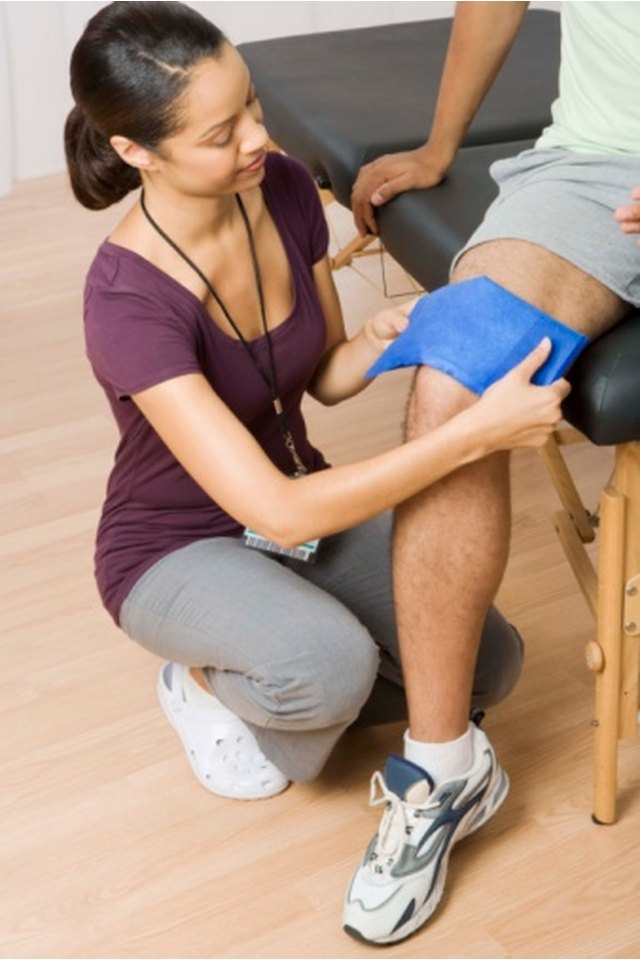 Athletic training and occupational therapy are both careers in the health profession. Trainers and therapists work with individuals suffering from physical injuries and disabilities by providing treatment and rehabilitation. The careers require a college degree along with the successful completion of a comprehensive evaluation. Both careers have an above average outlook for employment in the future.
Job Descriptions
Athletic trainers work to prevent and treat musculo-skeletal injuries in the field of athletics. They are usually first on the scene to evaluate and provide care for injured athletes. They often work under the supervision of physicians and interact with coaches and athletic directors on the rehabilitation and clearance of injured athletes.
Occupational therapists work with the physically, mentally and developmentally disabled population, addressing disabilities that are either temporary or permanent. They work to improve the ability of their patients to perform everyday tasks in the home or work environment. Improvements range from basic motor function to visual and brain functioning, with the goal of becoming more independent and productive.
Educational Requirements
While athletic training requires a minimum of a bachelor's degree, 70 percent of trainers have a master's degree, according to the Mayo Clinic. Most states require athletic trainers to be licensed, requiring certification and successful completion of a comprehensive exam.
Occupational therapy requires a minimum of a master's degree. Mandatory licensing is obtained with the successful completion of an accredited academic program including 24 weeks of fieldwork, along with passing a national certification exam.
Employment Environment
Athletic trainers are generally employed by high schools, colleges and professional sports teams. In some high school districts, trainers also teach classes and may need an additional teaching certification.
Occupational therapists work in a hospital, nursing or rehabilitative facility or in an ambulatory health care setting. Some are self-employed with their own private practice.
Salaries and Employment Outlook
According to the Bureau of Labor Statistics, there were 16,300 athletic trainers in 2008 with employment increases projected to be above average. The salaries for trainers range from $25,000 to $60,000.
In 2008 there were over 100,000 occupational therapists with employment increases projected to be above average. There is a high demand for therapists, especially those with specialization in areas such as the elderly population. Salaries ranges from $40,000 to $80,000.
References
Writer Bio
Luann Voza teaches both math and science in an elementary school setting and physical education in a college setting. A former fitness-club owner, Voza has taught group fitness classes in step, aerobics, yoga, Pilates and kickboxing. As a bodybuilder, she held the title of Ms. New Jersey Lightweight Division Winner. Voza has a master's degree in exercise physiology and a doctoral degree in education.