Exercise Machines With 350-lb. Capacity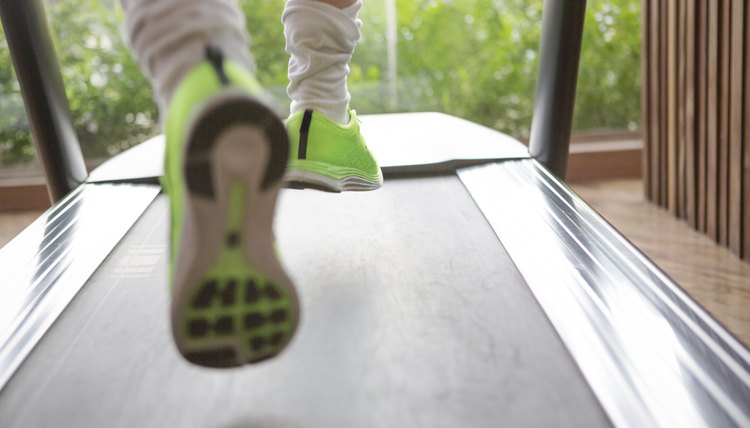 While most commercial equipment at the gym is built to hold 350 pounds or more, a lot of home equipment is not. Unfortunately, if you weigh over 350 pounds and use a machine that is not capable of supporting your weight, the motor may not withstand many workouts. The machine's warranty may also become void. However, there are a variety of models of exercise machines, including treadmills, ellipticals, stair steppers, and bikes, that do hold 350 pounds or more.
Treadmills
When comparing treadmills, it is important to look at the strength of the motor as well as the weight capacity. Typically, the stronger the motor, the more durable the machine. Another consideration is incline. Often, a heavier person finds it harder to run fast. By increasing the incline on the treadmill, you increase your workout without increasing speed. Most treadmill brands offer at least a few models with a 350-pound capacity, including NordicTrack, ProForm, Sole, and True Fitness. They also offer different incline options and motor options.
Ellipticals
Ellipticals also offer a good cardio workout that helps you lose weight. An elliptical has two pedals that you run on, while holding on to two moving handles. For a heavier person, the difficulty is balancing on the pedals and being able to control the machine. When purchasing an elliptical, it is important to buy one that has sturdy, large pedals. This helps distribute the weight over a larger area, thus keeping the machine and you safe. NordicTrack, Sole, and True Fitness all offer ellipticals guaranteed for 350 pounds or more.
Stair steppers can be as elaborate as a mini escalator with moving stairs, or as simple as two stairs that you push up and down. Typically, the smaller the stair stepper, the less sturdy it is. When purchasing a stair stepper, it is important to look for models that have handles and a large, sturdy base. Much like an elliptical, this will help distribute the weight over a larger area, thus making the machine last longer and supporting your workout. StairMaster, Star Trac, and Matrix all offer stair steppers that hold 350 pounds or more.
Bikes
There are two types of exercise bikes: upright and recumbent. Upright bikes do not typically have a back on the seat, and the pedals are directly underneath the seat, requiring you to sit upright to work out. A recumbent bike has a back rest behind the seat, and the pedals are in front of the seat below the handles. Thus, you can sit back while pedaling the bike. While you can find both types guaranteed for 350 pounds or more, recumbent bikes tend to be sturdier and provide a larger base of support, thus distributing the weight over a larger section of machine. Some brands that sell bikes with 350-pound capacities are LifeFitness, Star Trac, and Vision Fitness.
References
Writer Bio
Elizabeth Gray has been writing since the age of five, but professionally since the age of 21. Her current writing gigs include article writing for Studio Anya, and playwriting for the Manhattan Repertory Theatre.