What does fact checked mean?
At SportsRec, we strive to deliver objective content that is accurate and up-to-date. Our team periodically reviews articles in order to ensure content quality. The sources cited below consist of evidence from peer-reviewed journals, prominent medical organizations, academic associations, and government data.
The information contained on this site is for informational purposes only, and should not be used as a substitute for the advice of a professional health care provider. Please check with the appropriate physician regarding health questions and concerns. Although we strive to deliver accurate and up-to-date information, no guarantee to that effect is made.
Foot Exercises for Arch Pain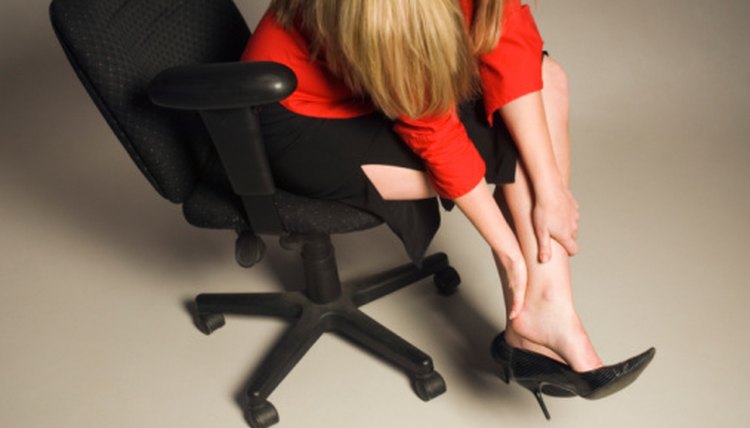 Arch pain is often caused by stress placed on your plantar fascia, the thick band of tissue on the bottom of your foot. Called plantar fasciitis, it causes a stabbing pain and inflammation in the arch of your foot. Medication can reduce the pain caused by the condition, and your doctor may also recommend stretching exercises to help stabilize your foot, ankle and lower leg.
Rolling Stretch
Place a tennis ball or small can underneath your arch to stretch your plantar fascia. Slowly roll your foot back and forth so that the tennis ball or can rolls around underneath your arch. Complete this exercise three times per day for a few minutes at a time.
Toe Walking
Remove your shoes to complete this exercise. Stand straight up and rise up on your toes and the front portion of your foot. Hold this position for a few seconds to gain your balance. Slowly walk forward by taking small steps. Look forward and maintain proper posture. Start by walking for 15 seconds at a time. Take a brief break and resume. Complete one set of eight repetitions. As you progress, walk the entire distance of a room without stopping for a break.
Kneeling Stretch
A kneeling plantar fascia stretch helps improve flexibility in your foot and ankle. Kneel on the floor with one knee so that only your toes are touching the ground. Bend your other leg -- the leg to be stretched -- at a 90-degree angle with your foot flat on the floor. While keeping this heel on the ground, slowly lean forward at your hips. Feel a stretch in the your leading foot. Hold this position for a count of 10. Relax and repeat. Complete one set of 10 repetitions for each foot.
Leaning Stretch
A leaning plantar fascia stretch helps strengthen and improve mobility in your foot and ankle. Position yourself on the floor in a kneeling position like that of the kneeling stretch. Instead of leaning forward, however, shift your weight backward so that your back knee rises off of the ground. Position your hands on the floor in front of you for support. Lean backward until your buttocks are touching your heel. Feel a stretch in your back foot. Hold this position for 10 seconds. Relax and repeat. Complete one set of 10 repetitions for each foot.
References
Writer Bio
Michelle Zehr started writing professionally in 2009. She has written on health, fitness, fashion, interior design, home decorating,sports and finance for several websites. Zehr possesses a Bachelor of Arts in communication from the University of Pittsburgh, a Master of Arts in professional writing from Chatham University and a graduate certificate in health promotion from California University of Pennsylvania.