GT Timberline Mountain Bike Comparisons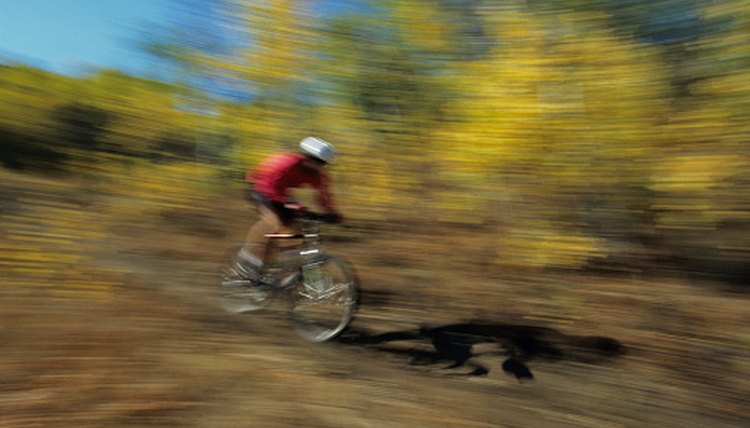 Founded in 1973 by Gary Turner, GT bikes have been designed for speed using a carbon fiber frame. As of 2011, GT has expanded to producing a selection of mountain, road and BMX bikes. One of those mountain bike models is the Timberline, made with various GT technologies such as force-optimized construction, triple-triangle design and an independent drivetrain. The combination of these technologies ranks the Timberline among top mountain bike competitors.
Models
The GT Timberline was produced in the late 1990s as a front-suspension mountain bike with various GT technologies. The specific components make the GT Timberline ideal for off-road trails and competitive mountain biking. The GT Timberline, with the Rock Shox Jett and front suspension for riding technical trails, effectively competes against other mountain bikes.
Force-Optimized Construction
Force-optimized construction on the GT Timberline mountain bike may give it an edge against similar mountain bikes when considering strength and stiffness. The manufacturing process for the force-optimized construction uses a proprietary blend of composite materials such as TR30 and TR50 fibers for maximum strength and stiffness without an excessive amount of weight. The force-optimized construction also lays the carbon fiber in a specific direction and orientation for a more comfortable ride compared to other mountain bikes.
Triple-Triangle Design
The triple-triangle frame is one of the most recognizable types of any mountain bike. GT made the design famous as it uses the strongest geometrical shape. The triple-triangle design allows the seat stay to extend from the top tube, providing improved pedaling efficiency and a stronger structure without increased stiffness. This design also decreases the amount of vibration from the rear wheel felt through the seat compared to other mountain bikes.
Independent Drivetrain
The GT Timberline mountain bike features the patented independent drivetrain. This system allows you to bike over rocks or other trail obstacles by reducing the impact to your ability to pedal efficiently from rear-suspension compression. Compared to other mountain bikes, the independent drivetrain on the GT Timberline "isolates the movement of the bottom bracket from the front and rear triangles," according to GT.
References
Resources
Writer Bio
Based in Nebraska, Jeremy Hoefs began writing fitness, nutrition, outdoor and hunting articles in 2006. His articles have been published in "Star City Sports," "Hunting Fitness Magazine" and RutWear field journals, as well as on the Western Whitetail website. Hoefs graduated with a Bachelor of Science in exercise science from Nebraska Wesleyan University.