Football Jersey Number Significance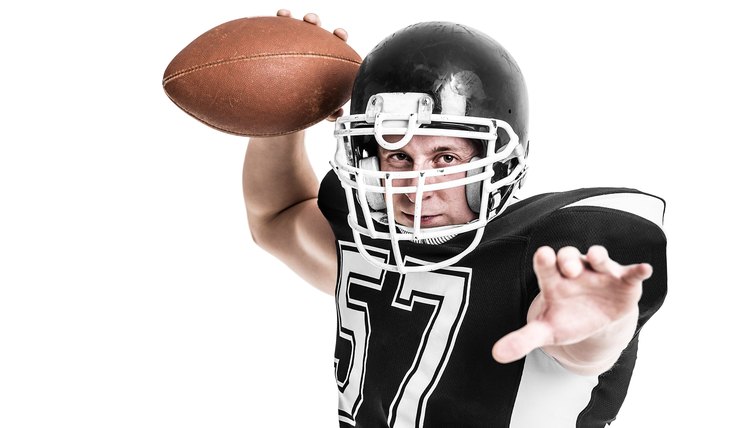 The NFL requires that players at certain positions be restricted to a range of numbers. This tradition trickled down to the college and high school levels, though no specific rules limit numbers to certain positions. Some high-profile exceptions have existed to the standard numbering system, but fans can generally get an idea what position a player plays just by looking at his jersey number.
Single Digits and Low Numbers
The NFL rule calls for punters, kickers and quarterbacks to use numbers 1 through 19. The most famous number 19 is perhaps Baltimore Colts legend and Hall of Fame quarterback Johnny Unitas. Wide receivers can also use numbers 10 through 19, under certain circumstances. In college, it is considered an honor to wear No. 1, and often the flashiest or highest-profile players wear that number, whether a quarterback, running back or wide receiver.
Wide Receivers and Tight Ends
Wide receivers and tight ends are assigned numbers 80 through 89, though if those numbers are all assigned, a receiver or tight end can use numbers 10 through 19. While most of the all-time best receivers wore numbers in the 80s, such as Jerry Rice, Kellen Winslow, John Mackey and Lynn Swann, several others went the low-number route, including Fred Biletnikoff, No. 25, and Lance Alworth, No. 19.
Linemen
Offensive and defensive linemen usually share most of the same numbering system. Centers, though, are supposed to be numbered in the 50s, which is the same as linebackers. Offensive guards and tackles are supposed to have jersey numbers in the 60s and 70s. Defensive linemen are also supposed to have jerseys that fall between 60 and 79, though they can have numbers from 90 through 99 if the 60s and 70s are all taken.
Running Backs and Defensive Backs
Running backs and defensive backs have the widest range, with options ranging from 20 to 49. Linebackers are supposed to stick with numbers in the 50s, though 90 through 99 are available if the 50s are all taken. Defensive backs tend to go with jersey numbers in the 20s and 40s, while running backs tend to have numbers in the 30s and 40s.
Famous Exceptions
The jersey system has notable exceptions. Raiders' center Jim Otto wore No. 00, a reference to his last name. Viking defensive lineman and Hall of Famer Carl Eller wore No. 81. And countless college football stars have gone against tradition in their jersey assignments. Michigan wide receiver Anthony Carter wore No. 1, while Florida State defensive back Deion Sanders wore No. 2.
Some Requests Denied
Many rookies in the NFL want to wear the numbers they wore in college, but that isn't always possible. USC running back Reggie Bush wanted to continue wearing No. 5 when was drafted by New Orleans in 2006. The NFL however, stood firm in its rules and wouldn't let the running back have the number. He opted for No. 25 when he came into the league. Other players come into the pros also wanted to wear their college numbers or a different number for a specific reason, only to find that the number has already been assigned or has been retired by the team. So, don't look for a rookie to wear No. 16 for the San Francisco 49ers. That's the number of Hall of Fame 49ers quarterback Joe Montana.
References
Resources
Writer Bio
James Roland started writing professionally in 1987. A former reporter and editor with the "Sarasota Herald-Tribune," he currently oversees such publications as the "Cleveland Clinic Heart Advisor" and UCLA's "Healthy Years." Roland earned his Bachelor of Science in journalism from the University of Oregon.