Pros and Cons of the ProForm StrideSelect Model 825 Elliptical Exercise Machine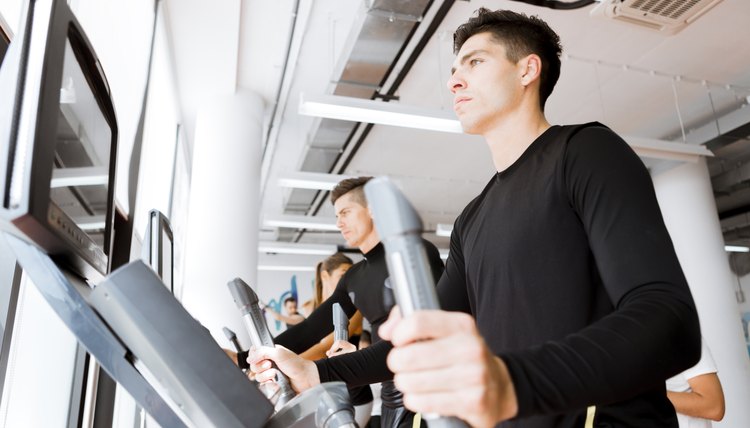 The discontinued ProForm StrideSelect 825 touts an unusual feature in the below-$500 price range: a two-position, adjustable stride length. Finding the right stride length is the key to picking an elliptical trainer that feels good when you use it, and strides of the same length can feel vastly different on machines from different manufacturers. So always try before you buy, especially with bargain-priced equipment.
Pro: Small, Light, Inexpensive
The StrideSelect 825 measures 51 inches long by 24 inches wide by 65 inches high and weighs about 124 lbs. -- a lightweight in the world of full-size elliptical trainers, which can measure as much as 80 inches long. When still in production, the 825 retailed for about $400.
Con: Flimsy and Poor Warranty
Unfortunately, inexpensive construction often equals poor construction in exercise equipment. The StrideSelect 825's 250-lb. maximum user weight capacity is more than twice the machine's weight, and user reviews indicate that it wobbles and feels flimsy, says Amazon.com. The 825 also comes with only a 90-day warranty, a vote of poor manufacturer confidence in the product.
Pro: Adjustable Stride
With this machine, you can manually adjust the stride length to either 12 inches or 18 inches. This adjustability is an uncommon features in such a low-priced machine and offers the feel of workout variety.
Con: Short Stride Length Options
The StrideSelect's advertising doesn't make it clear that this elliptical's stride options are much shorter than you'll find on sturdier elliptical trainers. The short, choppy 12-inch stride is closer to the action of a stair stepper than the usual running motion an elliptical trainer is built to simulate, and the 18-inch stride only barely approaches the minimum recommended stride length for most elliptical trainers.
Pro: Features
Like most ProForm equipment, the StrideSelect 825 packs a surprising number of features considering the price. It has 10 levels of push-button adjustable resistance, six preprogrammed workouts to automatically adjust resistance for you, and a two-speed, in-console cooling fan.
Con: Discontinued
The ProForm StrideSelect 825 elliptical trainer is no longer being produced. You can still purchase secondhand models, but given the machine's lightweight construction, a new elliptical trainer with at least a brief warranty might be a more appropriate use of your money.